Being wealthy and influential in a foreign country says a lot about the success of such a person. This is the story of a family that has not only identified with the Nigerian populace but has immersed themselves in the culture and practices of the country. The Chagourys are arguably the most powerful foreign family in Nigeria, considering their strong ties—ancestral, investment, and business—with the country. Over the years, the family has been known to contribute to the GDP of Nigeria, creating numerous job opportunities and financial support for the country.
Family History
The family history can be traced back to the early 1900s, when the family migrated to Nigeria from Lebanon. Ramez and Alice Chagoury were of Lebanese descent, but moved to the giant West African nation, and here they birthed and raised all of their children in Nigeria. Nigeria became a country they both adored, giving their children a second citizenship. Ramez and Alice gave birth to Gilbert and Ronald Chagoury, who would make their family name very famous.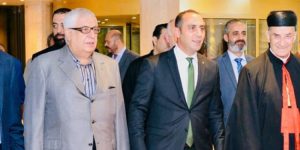 Gilbert Ramez Chagoury, the Chagoury Group's founder, was born on January 8, 1946, in Lagos, Nigeria. Though a Lebanese by ancestry, he is a Nigerian by birth, as he is often described as a Nigerian-Lebanese.
Gibert was sent to Lebanon to complete his university education at the College des Freres Chretiens in Lebanon, before returning to Nigeria. According to reports, Gilbert was close friends with General Sani Abacha, the dictator of Nigeria, who supported Gilbert's commercial endeavours there. In order to protect himself from potential criminal charges, Chagoury returned to the Nigerian government approximately $300 million after Abacha's passing in 1998.
The millionaire is wed to Rose-Marie Chamchoum, a Lebanese woman with ancestry in the Niger Republic. Ramez, Gilbert-Antoine, Christopher, and Anne-Marie are the couple's four kids.
Ronald Chagoury, the younger brother of Gilbert, was also born in Nigeria on January 8, 1949. He completed his education at the College des Frères Chrétiens in Lebanon and his business studies at California State University, Long Beach in the US before returning to Nigeria, which he considers his home.
The Chagoury Group
Gilbert and Ronald had the vision to build the businesses into a self-sufficient group structure in order to sustain their competitive advantage in a world economy that was changing quickly. The Chagoury Group of Companies has thrived thanks to this solid foundation. The Chagoury business, which started in the 1970s, has grown to become the Chagoury Group, a diverse conglomerate.
With the help of developing and utilising Nigerian professionals and the Nigerian workforce, The Chagoury Group has expanded to become one of the top businesses in Africa. The organisation employs tens of thousands of Nigerians, as well as other Africans and non-Africans.
The Chagoury Group's first company was the Grands Moulins du Bénin Flour Mill, which was founded in 1971 and is located in Cotonou, Benin Republic. Every day, the mill produces 250 metric tons of wheat flour.
Construction, real estate, manufacturing, water bottling and purification, insurance, hotels, flour mills, telecommunications, IT, catering, and international financing are among the activities undertaken by the Chagoury group's subsidiaries. Services provided by some subsidiaries of the group include:
Hospitality:
Included among its subsidiaries are Courdeau Catering, the Hotel Presidential in Port Harcourt, and the Eko Hotel and Suites in Lagos.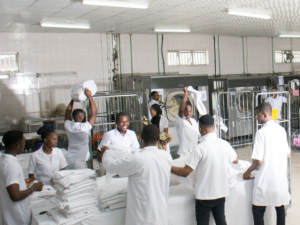 Eko Hotels & Suites is a five-star hotel in Nigeria, the largest hotel in Nigeria and one of the biggest in West Africa. It was established in 1977 as Èkó Holiday Inn and built on Victoria Island. It has the largest Convention Centre in Nigeria which can cater to 6,000 people and hosts popular events such as weddings, concerts, conferences and many more. Eko Hotels & Suites' sister hotel is Hotel Presidential in Port Harcourt.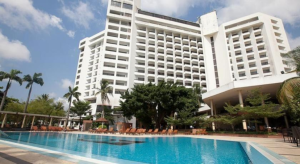 Courdeau Catering
Incorporated in 1995 is an hospitality arm of Chadoury group that provides full service catering, facility management, laundry and chandling to both onshore and offshore clients. The company is based in Port Harcourt and can provide services throughout the Niger Delta and further afield. It currently operates at 14 locations around the country, including Port Harcourt, Warri, Eket and Abuja. Courdeau Catering's clients include Exxon, Total, Shell, Agip, Mobil, Aluminium Smelter Company of Nigeria and Michelin.
Construction:
C&C Construction Company Limited
The first company in the Chagoury Group of Companies' construction division. It has built many notable projects, including the Nigerian Eagle Flour Mill, the DSS Headquarters in Abuja, the Foreshore Development Project in Osborne, and others. The company built Ideal Flour Mills in Kaduna, which is the first of four flour mills the company has established in Nigeria since 1978. Ongoing projects done by the C&C include the Nigerian Defence Academy and Ocean Parade Towers, an opulent residential complex on Banana Island in the Lagos Lagoon.
ITB Nigeria Limited
TB Nigeria Limited

A civil engineering and construction firm headquartered in Lagos. The company constructs high-quality buildings for both residential and industrial purposes. The company also makes pilings and offers electro-mechanical services and products, such as generators. This company was responsible for the construction of EcoBank head office, Eko Towers 2, Four points, Kuramo Beach Residence, Akwa Ibom International Convention Centre, etc.
Hitech Construction
A company that specialises in civil engineering and works on infrastructure projects like building roads, railroads, bridges, and water supplies. Additionally, they have expertise in drainage systems, earthmoving, dredging, irrigation plans, and marine installations. One of the completed projects done by Hitech is a sea wall along Bar Beach, in Eko Atlantic. Hitech have executed projects for clients such as the Federal Ministry of Works, Abia State Government, Bayelsa State Government, Lagos State Government; Nigerian Breweries PLC, amongst others.
Real Estate Development: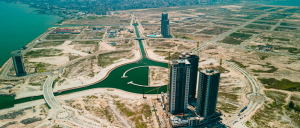 The Atlantic City
The construction of Eko Atlantic City, a planned 250000 residential and commercial centre is their major project in this category. The project is privately funded by South Energyx Nigeria Limited, a subsidiary of the Chagoury Group, which is working in strategic partnership with the Lagos State Government and the Federal Government of Nigeria.The project which was initiated in 2003 saw construction work begin in 2008. Former Lagos State Governor, Akinwumi Ambode commissioned the project in 2016.
Eko Atlantic City, projected to be the size of Manhattan's skyscraper district, stands on 10 million square metres of land reclaimed from the ocean. It is protected by an 8.5-kilometre-long sea wall. A self-sufficient and sustainable city, includes state-of-the-art urban design with its own power generation, clean water, advanced telecommunications, spacious roads, and tree-lined streets. A few structures have been finished as of November 2020, most notably the Eko Pearl Towers.
Transportation:
Chagoury Group has a transportation subsidiary called Fleetwood Transportation, established in 1989 and headquartered in Lagos, Nigeria. Grain carriers, flatbed trucks, and tipper trucks are all part of the company's fleet of trucks and flatbeds. Fleetwood is a member of the Nigerian Association of Road Transport Owners (NARTO).
The Chagoury family has become very powerful over the years and highly influential, not just in Nigeria but globally. Through their ownership of the Chagoury Group, the Chagoury family has an estimated wealth of $4.2 billion.
Other Members of the family
As a family business, members of the Chagoury family are actively involved in the running of the company. Popular members of the family are Rose Marie Chamchoum, Ronald Chagoury Jr, Christopher Chaghoury, Gilbert Antoine, Anne Marie Chagoury, Ramez Gilbert Chagoury