She is not well known in Abia political space because she is not a regular politician. She has not been on the ballot before now and may not have nursed the ambition. But her love for the indigent women and her empowernment programmes has drawn her much closer to the people as she has become the most talked – about woman in Ngwa Land and Abia in general.
Apart from bringing women as she quite understands the challenges of women, she has been helping us in her humble and sincere ways – these were words of Chief Mrs. Uchechi Ikonne last week to a few gathering of women in Umuode Nsulu, Isiala Ngwa North,Abia state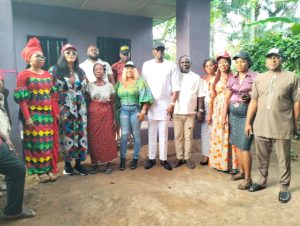 To underscore her benevolent heart, on 20th of May 2022 around 10:52pm, Mr. Bethel Agbara, a celebrated student Union leader and Umuahia based professional photographer received a surprised message from Mrs. Atasie Ibezimakor Tina Chinenye.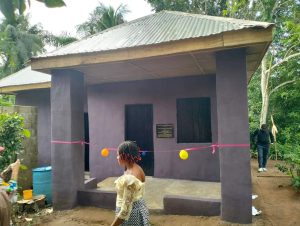 According to Bethel Agbara, who spoke with www.newsmirorng.com, in that message was a screenshot of a post he made concerning an old poor woman that almost lost her life because she had no comfortable accommodation, only managing her leaking thatched house, that is about collapsing.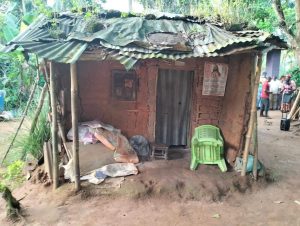 Mrs Tina questions to Mr. Agbara was " Where is she and how can we help"? After narrating the woman's story to Mrs. Tina Mac Atasie, as the woman had lost almost all her children, leaving her with only one son that is also struggling to make ends meet in life, her passion for humanity was fired up.
Mrs. Tina Atasie thereafter accepted to be of great help and to change the woman's story, and that she has exactly done.
Just few days later she visited the woman in her thatched house with lots of goodies.
Apart from that, she took her to hospital while promising to help her get a new building, no matter how small.
Like a lightening, the nest day, Mrs Tina Mac Atasie stormed the woman's house again as she promised, and the foundation of a brand new building was laid and today, the rest is history.
The good news is that the new house built for the indigent woman by Mrs. Atasie for the old poor woman is ready and the woman, from Ntigha in Ndiolumbe Nvosi Autonomous Community has gotten a new safer house from a total stranger, a woman whose heart flows with love and compassion.
The Mac Atasie's family is known for their philanthropic gestures and service to humanity but one thing about them is not making it public.
They must have imbibed the Biblical doctrine of " Let your left hand not see what your right hand is doing " but we decided not to keep quiet about this rare gesture of a lady that is not running for any political office come 2023.
Appreciation goes to Mr. Christian Ndukwe , the Ndiolumbe Development Union Chairman who drew the attention of Mr. Bethel Agbara to the poor condition of the woman and Nkasiobi Chuks who gave his best and still doing in making sure that the old gets a comfortable place she can call her home.
The commissioing of building has been done and dusted and was attended by Hon. Bankaria Enweremadu, Hon. Chimereze Joseph Nwankwo, Hon. Rowland Ceasar amongst other.