The Imo State University Owerri (IMSU) has suspended seven of its lecturers for allegedly indulging in corrupt practice in the institution.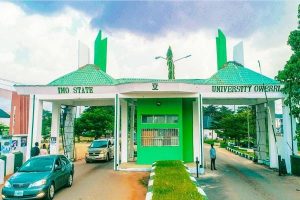 The Vice Chancellor of the University, Prof. Uchefula Chukwumaeze, disclosed this during a media chat in his office Owerri on Thursday, anchored by the Special Adviser to the Governor of Imo State on Networking, Hon. Adanna Chantel Onwuzuruiike.
He said that one of the suspended lecturers is already facing disciplinary actions for slapping a pregnant female student while others indulged in selling textbooks to the students against the rules and regulations of the university that prohibits such conduct.
Prof Chukwumaeze, who described it as his administration's bold steps to stamp out all forms of corrupt practices beclouding the citadel of learning, said no lecturer will be allowed to sell books to students before giving tutorials.
He said: "The era of after taking examinations and it will take longer than necessary to see results is gone. And with what has been done, no lecturer will hold the results of students for two weeks without releasing it".
Prof. Chukwumaeze recalled that he met an institution with low morale as Vice Chancellor, disenchanted and disorganized blaming it on his predecessor whom he said is not home-grown.
He said, "I inherited a system where corruption and sorting was order of the day."
According to him, despite being appointed a month before strike started barely a year ago, he was able to confront some of their challenges headlong with a view to nipping them in the bud.
The Professor of law said that his level of commitment and dexterity enabled him to achieve a lot within the time which include establishment of new faculty of Communication and Media, establishment of the University Press, rehabilitation of Medical Centre, and Micro Finance Bank in the institution amongst others.
He said that his administration has cleared the backlog of promotion of staff from 2018-2021 with prompt payment of salaries as at when due.
While commending the Governor, Hope Uzodimma, for his laudable support for the University, the VC hinted that the current staff strength of the University is 1,800 while her school fees stands at N29,000 for indigenes of the state and N150,000 – N180,000 for non-indigenes.
Prof. Chukwumaeze said that Imo State University as it stands today records the lowest in cultism among other tertiary Institutions in the country.
According to him, those things that encourage cultism activities to strife such as management that support or tolerate such is not in the institution.