The Nigerian Senate has rejected a request by President Bola Tinubu that Nigeria intervene militarily in the Niger Republic.
Newsmirrorng.com reports that the Nigerien military overthrew the democratically elected government in the country last week, and Tinubu had written to the Senate requesting that they pass a resolution to allow Nigeria to intervene to restore democracy.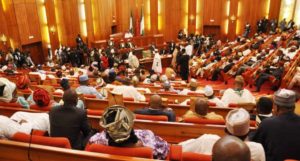 The letter which was read during plenary on Friday by President of the Senate, Godswill Akpabio, said Nigeria, in compliance with ECOWAS resolution will undertake "military buildup and deployment of personnel for military intervention to enforce compliance of the military junta in Niger should they remain recalcitrant.
"Closure and monitoring of all land borders with the Niger Republic and reactivation of the border drilling exercise.
"Cutting off Electricity supply to the Niger Republic, mobilising international support for the implementation of the provisions of the ECOWAS communique.
"Preventing the operation of commercial and special flights into and from Niger Republic; Blockade of goods in transit to Niger especially from Lagos and eastern seaports," the president added.
The Senate, however, did not grant the request during an executive session on Saturday.
In a statement, Senate President Godswill Akpabio said that the Senate had "categorically" decided not to intervene militarily in Niger.
Akpabio said that the Senate was concerned about the coup in Niger, but that they believed that military intervention would not be the best way to restore democracy. He said that the Senate would instead focus on diplomatic and economic measures to pressure the junta to step down.
Meanwhile, a participating senator disclosed that a consensus was reached among the senators during the meeting. They decided to approve a resolution denouncing the coup and expressing appreciation for the endeavors of ECOWAS leaders in reinstating constitutional governance in Niger. However, military actions were excluded as a viable course of action.
"Almost all the senators spoke and totally ruled out the military options because of many factors and also because of the harmonious relationship that Nigeria and Niger has always enjoyed.
"Senators instead urged President Tinubu to intensify negotiation with the coup leaders by again sending a high-powered delegation to Niamey. Someone suggested that elderstatemen like Obasanjo, Gen Ali Gusau and Abdulsalam Abubakar should be sent as special envoys to dialogue and seek a diplomatic solution.
"Senators opposed to military action pointed out that our military is highly ill-equipped and not prepared to fight any war.They said that we have fragile peace in Nigeria and that Niger is the highest arms market in Africa.
"Senators believe that the Federal Government should focus on solving the Boko Haram, banditry and ESN/IPOB menaces ravaging the country instead of contemplating going to war in a foreign country. "