The Rotary Club International, Umuahia Central District held it's installation ceremony on Saturday, 28th August, 2021 in Umuahia, the Abia state capital where the club decorated one of her own, Dr Eugene Ahuruezenma Uhuaba as the 37th President of Umuahia Central District of the club
Dr. Uhuaba has no doubt, distinguished himself religiously, professionally and socially in every aspect of human endeavour and very passionate about service to humanity which is the cardinal objective of the Rotary Club International – a world reknowed humanitarian organisation known worldwide for her selfless services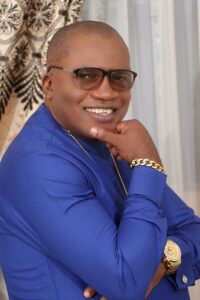 Rotary club international used the occasion to honour people that have distinguished themselves in the service to humanity and one of them is Abia born foremost philanthropists, Amb. Dr. Bishop Emeka Nwankpa who was ably represented by Pastor Temple Iheme.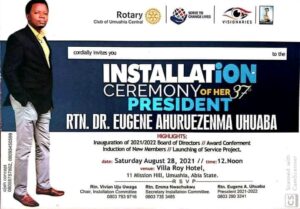 Bishop Dr. Emeka Nwankpa was honoured with COMMUNITY SERVICE AWARD in recognition of his 16 years of selfless services to the vulnerable in our society.
In his response after the award, Dr. Bishop Emeka Nwankpa, the Umukalu Ntigha, Isiala Ngwa North ferry Bishop and general overseer of Chapel of Faith Bible Church International, promised to continue doing good to people and vowed to help lift many more people out of poverty line.
He promised to always partner with Rotary club international and to deepen their relationship as the aims and objectives of Rotary club International are in synergy with his vision for a better society
Dr. Bishop Nwankpa thanked Rotary Club International for finding him worthy to be so honoured and hailed their diligence to recognise the numerous assistance he has rendered to the poor and downtrodden, especially in the rural areas.
Dr. Nwankpa insist that the only way to have a peaceful society is through job creation for our teeming youths, wealth creation and to elect leaders that are not greedy but those with vision, that are committed and ready to serve the people, not those that are coming to loot the treasury and prayed that God has heard the cry of people and will not turn his back on us.