Governor Okezie Ikpeazu says his administration is starting a new Hospital Management paradigm that will involve community participation and give all health care professionals, especially pharmacists, their proper place in the management system.
Governor Ikpeazu stated this when he received in audience a delegation of the Pharmaceutical Society of Nigeria led by the National President Mazi Sam Ohuabunwa at the Governor's Lodge, Aba. Under the new arrangement, Doctors and other hospital professionals will be recruited from the communities where the hospitals are located pointing out that the Nkporo hospital in Ohafia LGA newly built by the State government will be used as a case study in this new system.
He said that the government would make available monthly subvention to the new hospitals to subsidize child birth, malaria, high blood pressure treatment amongst others.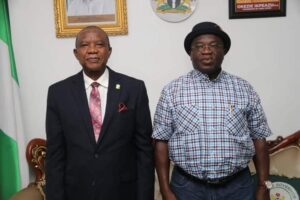 He regretted that general hospitals in the State were not living up to expectations both in revenue generation and service delivery to the people.
He attributed the rise in kidney diseases to drug abuse and made a case for the deployment of pharmaceutical services in Nigerian hospitals.
Governor Ikpeazu congratulated Mazi Sam Ohuabunwa for the great job he has been doing for the country through the Pharmaceutical Society of Nigeria and promised to leverage the services of Pharmacists to improve the health sector of the State. He assured the delegation that he would allocate of a piece of land for the society to build her secretariat as requested.
Earlier, the National President, Pharmaceutical Society of Nigeria, Mazi Sam Ohuabunwa said the delegation came to felicitate and encourage the Governor on the successes his administration has recorded by his administration. He told the Governor that some government owned hospitals in the State are offering pharmaceutical services without pharmacists and called for employment of phamacists in hospitals. He also informed the Governor that the federal government has recently approved the consultant cadre for Pharmacists and requested the Governor to implement this in the State Public Service. He also used the opportunity to request for allocation of land for building a Secretariat for the society in Abia State.
He appreciated the efforts of the Governor in the introduction of Pharmacy as a course of study at the Abia State University and congratulated the Governor for providing good leadership in the State so far, especially in the area of infrastructural development as well as thanked the Governor for his support for his emergence as the President of Pharmaceutical Society of Nigeria.
Secretary to Government, Barrister Chris Ezem, Honorable Commissioner for Health, Dr Joe Osuji and Special Adviser to the Governor on Health Matters, Felix Chinwendu Joe were present at the event.