A man suddenly went blind in one eye after taking Viagra — and doctors think the erectile dysfunction remedy could be to blame.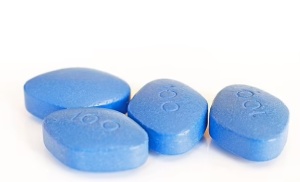 The 32-year-old, from Iran, took a bumper dose of sildenafil, the main ingredient in the little blue pill.
He lost sight In his right eye almost immediately afterwards.
Despite efforts to restore his vision, the damage was too extensive and he has now lost all vision in that eye.
Medics from Tehran, who shared the unidentified man's case in a journal, said it was some of the strongest evidence that taking the drug could harm the eyes.
Sildenafil combats impotence by boosting blood flow to the penis through relaxing the blood vessels.
However, it is thought this effect could, in some circumstances, inadvertently harm other sensitive vessels in the body, such as those in the eyes.
In the most recent case, the man suffered the sudden loss of vision three hours after taking 100mg of sildenafil.
This is the maximum dose of the drug and double that recommended for most men who take it for erectile dysfunction.
*Doctors' efforts*
After losing vision in his eye the man attended hospital and informed medics he taken sildenafil.
Scans found the man, who had no other medical complaints, had suffered clots in both the artery and vein that transferred blood to and from his right eye.
This resulted in swelling of his retina — the light-sensitive tissue at the back of the organ.
He also suffered from macular edema, a condition where blood leaks into the retina.
Doctors at Farabi Eye Hospital said the pressure from this fluid build up eventually led to the retina physically detaching from the rest of his eye.
Due to concerns about blood clot risks from Covid vaccines and the virus itself at the time, doctors quizzed him about any recent infections or jabs.
However, he had neither been recently infected nor vaccinated.
Investigations also found his left eye was undamaged.
Medics also noted he had no family history of blood clot issues that could explain the sudden damage to his eye and tests for any undiagnosed conditions came back negative.
The medics said that while eye and vision problems had been reported from taking sildenafil, the link between the two is 'controversial'.