Bola Tinubu, the president-elect in the 2023 presidential election, has extended a friendly hand to his opponents in the just concluded election.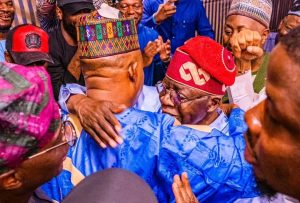 He called on Atiku Abubakar, his strongest opponent and runner-up in the election, to join him in moving Nigeria forward following the end of the election.
The president-elect also called on Peter Obi and Rabiu Kwankwaso, the candidates of the Labour Party and New Nigeria Peoples Party (NNPP), who came third and fourth in the poll. He said: "I am grateful to Almighty God. By His mercy, I was born a son of Nigeria, and through His sublime purpose, I find myself the victor of this election. May He grant me the wisdom and courage to lead the nation to the greatness He alone has destined for it.
"Finally, I thank the Nigerian people for their abiding belief in our democracy. I shall be a fair leader to all Nigerians. I will be in tune with your aspirations, charge up your energies and harness your talents to deliver a nation that we can be proud of. "To my fellow candidates, former VP Atiku, former governor Kwankwaso, former governor Obi and all others, I extend the hand of friendship. This was a competitive, high-spirited campaign. "You have my utmost respect." He further added: "During the election, you may have been my opponent but you were never my enemy. In my heart, you are my brothers."