A 45-year-old man who claimed to be a footballer, Bankole Oginni, has killed his ex-lover and ripped her belly opened.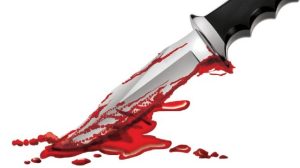 Oginni killed his ex-lover at his residence at Oke aro area of Akure, the Ondo State capital.
It was a daughter of the deceased that discovered her mother's lifeless body and reported to the police.
She went to Oginni's residence after her mother's failed to return home with her phone switched off.
Police said she found her mother dead in Oginni's room with her legs and hands tied while her belly was ripped open and the intestines removed.
Name of the deceased was yet to be released as of press time.
Ondo police spokesman, SP Fumilayo Odunlami-Omisanya, said the suspect has been arrested.
He said: "A lady reported at the station that her mother's ex lover Bankole Oginni called and invited her over to his place at Oke aro area of Akure and after she left for his house, she did not return.
"Her phone was switched off. She traced her mother to the house, only to find her lifeless body on the room of the ex lover. Her legs and hands tied and her body opened with intestines removed. Suspect in custody while the body of the deceased has been deposited at the morgue," she added.