A lion ran loose in a major Pakistani city for the second time this year, officials said on Wednesday, shedding light on the craze for exotic pets.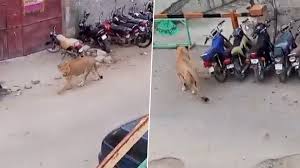 For hours on Tuesday, the 20-month-old male lion strolled the streets in a congested neighbourhood of Karachi, police official Sheraz Nazir said.
Children screamed and adults fled in fear, said Mukhtiar Soomro, a wildlife officer who was part of the team that captured the animal.
"It took our team at least two hours to confine the lion to a parking lot and then capture it in a cage," Soomro told dpa from Karachi.
"It was a first-of-its-kind incident in Karachi.
"Planning and executing an operation to capture such a huge and dangerous animal was a frightening experience," the official added.
No one was mauled.
A video shared on the social media showed a man shouting to others to run as the animal slowly walked along the pavement.
The lion was handed over to the city's zoo and a criminal charge was being filed against the owner for keeping a wild animal in a residential area.
This was according to another wildlife official Mumtaz Ali.
"The owner can face a fine of up to 300,000 Pakistani rupees (around 1,000 dollars) and imprisonment up to three years," he added.
Pakistan's wildlife laws allowed private citizens to establish mini zoos, but keeping a lion or tiger as a pet in a residential area is a crime.
But these laws are often ignored.
In February, a leopard ran loose from a neighbourhood near Islamabad and it took wildlife rangers several hours to capture it.
Video