A local politician in Okaleru, Okoffia in Ezza South Local Government Area of Ebonyi State, (name withheld), is in big trouble for allegedly bit!ng off his first wife's l!p without provocation.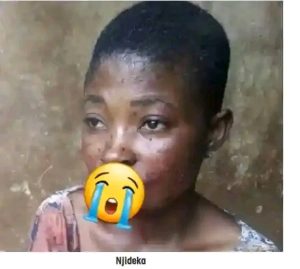 The 40-year-old chieftain of the People's Democratic Party (PDP), reportedly took advantage of a minor faceoff between the first wife, Njideka and the second wife to display this act of near-ca£nñibal!sm.
It was gathered that the pregnant wife and mother of four and the second wife, had, in the morning of Saturday, August 12, 2023, engaged each other in a verbal war, when their husband suddenly hijacked the matter. He allegedly descended on the first wife and ch0pped off her lower lip in the process.
A family member who wished not to be named said that the injured wife and her husband were living happily until around 2015 when the man got married to a second wife. According to the source, the union which turned polygamous automatically made their once peaceful home a bàttlefield.
He said that frequent quarrels erupted between the man and his first wife, and occasionally between the two women. In fact, villagers in their quest to bring normalcy among these people had mediated severally and cautioned the husband to desist from maltreating his first spouse.
Our source stated that the man never heeded to those pieces of advice or felt the effect of the mild penalties imposed on him including some fines.