Mary Obeten Peter, a woman from Cross River State, Nigeria, has been left devastated after her husband, Peter Obeten, married her younger sister, Hannah.
Mary and Peter tied the knot in 2021 and have a child together.
It was gathered that Hannah came to Lagos to assist Mary with house chores when she gave birth. However, she ended up having an affair with Peter, who is a plumber.
The affair culminated in a wedding ceremony that took place yesterday, October 11.
Mary expressed her pain on Facebook, writing: "My kid sister has finally succeeded in taking my husband as her husband may God judge you amen"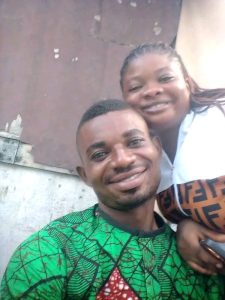 She also confirmed that her sister and her husband are now living together.
In a previous birthday message to Hannah in 2022, Mary had called her "my favorite sister".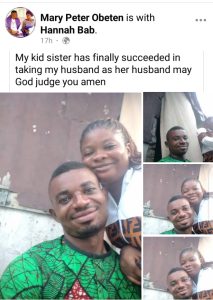 Peter, on the other hand, showed no remorse for his actions. He posted on Facebook: "I'm so happy that I finally succeeded in taking my wife's kid sister as my new wife".