Princewill Chimezie Richards, Leader of the Biafra Nations League (BnL) has been reportedly held by men of the Nigerian Army in Isiala Mbano Local Government Area (LGA ) of Imo State.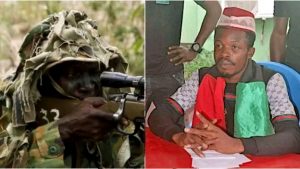 "Please, I may not have access to my phone. Nigerian Army have held me in Isiala Mbano, Imo State now after identifying me," Richards said in a terse message sent to POLITICS NIGERIA at 11:36 am.
Repeated calls to Brigadier-General, Onyema Nwachukwu, spokesperson of the Nigerian Army, went unanswered. Also, an SMS sent to his line did not receive a reply.
It is not yet clear why Richards was arrested, as the pro-Biafra group he leads is not outlawed. He recently formed an alliance with a controversial separatist though – Simon Ekpa.
Last week, Richards had raised alarm about his likely arrest.
Recently, the Nigerian Army and Police reportedly ransacked communities in the Bakassi peninsula in an attempt to arrest the leader.
He has been arrested twice in the region.