The National Emergency Management Agency, NEMA, has disclosed that 13 States might be affected following rapid release of waters from Lagdo Dam in the Republic of Cameroon.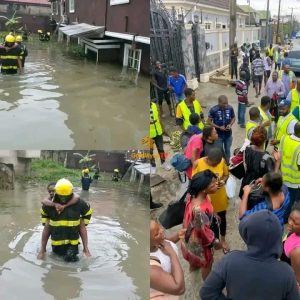 This is as the Agency has also disclosed that over 28 persons have been killed, 48,168 individuals displaced and 159,157 persons affected from flooding in the country this year.
The Director-General, NEMA, Mustapha Habib Ahmed made this known at the National Emergency Coordination Forum Meeting, in Abuja on Saturday.
Ahmed stated that there has been an upsurge of water along the flood plains of River Benue, which he said will greatly affect states like, Adamawa, Benue, Taraba, Kogi, Delta, Edo, Anambra, Enugu, Edo, Delta, Rivers, Nasarawa and Bayelsa.
NiMet Warns 15 States Of Heavy Rain, Strong Wind
Flood Disaster: Houses, Property Destroyed In Nasarawa
He added that there has been "sudden increased inundation of riparian communities and farmlands along the banks of River Niger in Adamawa, Taraba and Benue states in the past 48 hours.
"The sudden situation is attributed to the rapid release of waters from Lagdo Dam in the Republic of Cameroon and has resulted in the displacement of several inhabitants of the affected communities. Furthermore, croplands and valuable infrastructure are at risk of getting washed away by the flood waters. "
Ahmed also stated that the Agency has directed the activation of all emergency response units to be ready for any emergencies as the flooding will be increasing as the days go by.
"As a result of the unfolding situation, I want to use this opportunity to alert authorities of State and Local Governments along rivers Niger and Benue basin areas to immediately activate their emergency response plans to avert potential damage and losses that will arise due to inundation of communities by flood waters.
"Furthermore, we are expecting to receive updates from the Nigeria Hydrological Services Agency (NIHSA) NIMET, NEMA Operations Office in Yola Adamawa state and from State Emergency Agencies of the frontline states to keep on updating you on the situation as it unfolds," he said.