The BBC has identified four of the five passengers on board: Hamish Harding, Paul Henry Nargeolet, Shahzada Dawood, and Suleman Dawood.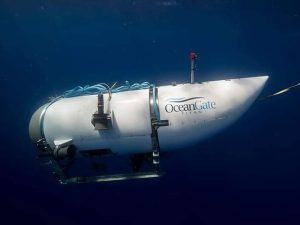 The fifth passenger on board has been identified by Reuters as Stockton Rush, the founder and CEO of OceanGate. According to OceanGate, Rush performed a 4,000-meter validation dive on the Titan in December 2018.
Harding, a 58-year-old British billionaire, has a taste for adventure and once went on a Blue Origin flight to space. He's a known explorer who holds at least four Guinness World Records honors for achievements including the longest time spent navigating the Mariana Trench, the deepest part of the ocean, and the fastest flight going all the way around the globe, crossing both poles, Insider previously reported. He's also been to the South Pole twice.
Harding announced his attendance on the Titan in a Sunday Instagram post before the sub started its expedition.