A housewife living in Maiduguri, one Milly Yakubu Gowon, has alleged that her husband's "side chick" (girlfriend), whose name she gave as Ummi Dogo also known as Na'omi Nathaniel, a staff of Nigeria Security and Civil Defence Corps (NSCDC), is tormenting her due to her inability to have children for her husband.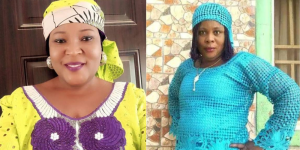 Gowon had posted the picture of Nathaniel, the woman she claimed was having an affair with her husband under the caption: "You made me to hate you, and l hate you with passion. Leave my family alone munafuka."
When contacted by THE WHISTLER on why she had to go the extra mile to post the picture, the housewife said she ran out of patience and could no longer "bottle it. You see, if you keep bottling something, there comes a time you get tired of it.
"If I hear that my husband is befriending someone, who is supposed to look for someone's trouble? The side chick or me? Isn't she the one stealing from me? Well, she has the guts to snap pictures with him and be sending to me telling me she gave birth for him! People do not know what I'm passing through."
Gowon said she has been married to her husband for 27 years without a child yet, but according to her, the purported girlfriend who has been having an affair with her husband for over 7 years bore two children for him.
Gowon said she has never met the woman before in her enitre life, but was told she lives in Bauchi.
She said: "I don't have issue with my husband, this is our 27th years in marriage, he didn't say he doesn't love me anymore. We are legally married. We had a church wedding. But because she gave birth for him, she is even mocking me with it simply because I've never given birth? She will snap and send the pictures to me saying God has blessed her with children.
"She has been sending different friend's request on Facebook but I just ignored her. Can you believe that she went as far as changing her name on Facebook after I blocked her and she sent another friend's request just to be sending those pictures? I used to know her as Ummi Dogo but she changed her name to Na'omi Nathaniel, I don't know if she did that just to get me or not, but that was also a name my sister's daughter was bearing, so I accepted the friend's request and didn't bother to check the profile picture.
"It's been 7 years or more that I know her to be having affairs with my husband. I suffered so much pain because of this whole thing, and all this while I refused to voice out, but once you see a woman voicing out this way, it's because it's too much."
According to her, she confronted her husband with the issue, asking him if she ever bothered him about the woman, and when he said no, she then asked him why the lady in question kept pestering her and looking for her trouble despite all they both did to her?
Gowon explained that years back when she heard about the woman and confronted her husband about it, he told her that he mistakenly impregnated the lady and nothing more was between them.
He apologised and begged for forgiveness.
"So I told him when she gives birth, please bring the baby to me and he agreed. But after some time, he told me it's not all women that like their children away from them. I now said ok no problem.
"Later on I heard that he gave birth to another child with the same woman again. I still confronted him since he said the first pregnancy was a mistake, then what about the second one?"
Mrs Gowon also revealed that she found out that her husband has another child elsewhere with another woman, "he has another child elsewhere that is 20 years, I never got to find out until when the girl was 17 years."
According to her she has faced so much pain because of all the chaos around her childlessness and had concluded that, "Personally, if he likes let him flirt anyhow he likes, but let none of those women contact me. Let them leave me alone."
Meanwhile, we also got in touch with Nathaniel to hear her side of the story. But instead of disputing or comfirminig the allegations, she was abusive.
"Journalist so you are foolish like this that someone will send you to me to interview me? You are very stupid, do you know who I am? OK better mind yourself I'm not your type. Go back and tell her I'm more than you two for ever!," she told our correspondent.