Joseph Aloba, the father of the late singer Mohbad, says a paternity test is a non-negotiable requirement to determine his grandson's (Liam's) true lineage.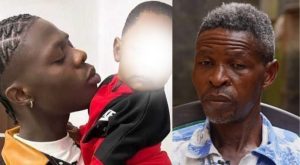 Aloba spoke against the backdrop of ongoing debate on whether or not a DNA test was needed in the investigations into Mohbad's death.
The late singer's father said this in a video making the rounds on social media.
Aloba stated that he is willing to provide consent for the DNA test and is open to designating a representative if he cannot be present during the procedure.
He emphasized the importance of transparency in the process, insisting that the DNA test should be conducted at two distinct locations to eliminate any doubt regarding the results.
"Concerning the DNA test, it's a MUST they do it. Nigerians are demanding for it. I heard rumours that they did it but no matter what, I'm Mohbad's father so I'll give consent to the DNA test or send anyone who can represent me during the test if I'm not there to know how they'll do it. And even when they want to do it, it should be done in 2 different places so we can be very sure and know the truth.
"Also, where I am from in Ikere Ekiti, we don't accept bastards, But it will be a thing of joy for me if this child is Mohbad's because this is the only child he left behind. Three days before his death (on Saturday) I was with him, he even served me food and he put Liam on my hands and he was taking pictures.
"So, I'll be very happy if Liam is Mohbad's son because I love the child. But if it turns out that Liam is not his son, it won't be good if we don't find out now because of the future so that even late Mohbad shouldn't be blaming me that I accepted something like this. So, the DNA is very necessary."
The unfolding tale about the paternity of Mohbad's son has captured the attention of Nigerians, as they eagerly await the results of the test to determine Liam's true father.