Masters Energy Oil & Gas Limited, has said it is targeting the leadership of Nigeria's $683 million lubricants market by controlling about 35–40 per cent share of the market by 2024, with its combined 80,000 metric tonnes manufacturing capacity.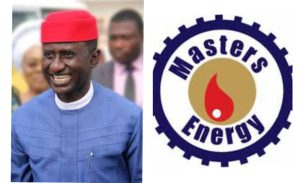 However, sourcing base oil, which is the raw material for lubricant production, remains a major constraint facing local manufacturers due to foreign exchange hiccups as Nigeria imports 100 per cent of base oil needed in the country.
Venturing into the lube business a few years ago with a meagre 4 per cent of the market share under its control, the Uche Ogah-owned oil marketing company has pushed its control of the market to almost 19 to 21 per cent
The company has two lube manufacturing plants in Nigeria: one in Mowe, Ogun State with 10,000MT capacity to service the South-west and another in Uturu, Abia State with 70,000MT manufacturing capacity to attend to the growing demand in the South-east, South-south and North-east
Nigeria's lubricant market is estimated to worth $683 million while the country has an installed lubricant capacity of 600,000MT, accounting for about 20 per cent of Africa's total lubricants demand, data from the Lubricants Producers Association of Nigeria (LUPAN) had indicated.
According to Mordor Intelligence, an Indian-based global market research and consulting firm, Nigeria's lubricant market stood at 503.50 million litres in 2021 and is projected to grow annually at 3.48 per cent to reach 597.33 million litres in 2026.
Masters Energy said it is also expecting to import its lube products, having obtained export licence from the industry regulators, Executive Director, Operations, Maters Energy Group, Mr. Executive Director, Operations, Maters Energy Group, Mr. Felix Eribo, said in an exclusive interview that with its 80,000MT production capacity, where it produces lubricants of all types, ranging from synthetic to diesel oil to transformer oil to locomotive and automobile engine oil among other, the company is now reputed to be one of the largest in Africa.
He explained that Masters Energy's market share has been recording exponential growth since it's entrance into the lube market.