The Executive Chairman of Umunneochi local government council in Abia State, Chief Ifeanyi Madu, on thursday the 27th of October bagged the 2022 Nigerian Local Government Merit Award (LOGMA), as the best performing Local Government Chairman in Nigeria.
The award is in recognition of his leadership quality through service delivery and high sense of accountability.
While receiving the award in Abuja, at the 22nd Nigerian Local Government Merit Award (LOGMA), Chief Madu commended the organizers of the Award for finding him worthy of the award and described the award as a significant one to him, stating that the award will encourage him to further serve humanity and the good people of Umunneochi Local Government Area,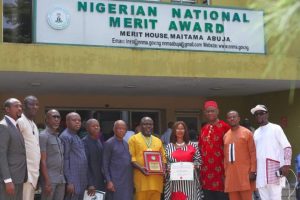 He dedicated the award to first the almighty God and His Excellency, Governor Okezie Ikpeazu, who he said made the recognition possible because of his love and special interest in the people of Umunneochi.
He thanked the leadership of the PDP, staff of the Council, The Legislature, and the Executive of Umunneochi LGA for their continuous support and the opportunity given to him to serve, Chief Madu pledged not to lower the performance rating that has earned the Local Government the first national recognition in the history of the LGA and pledged to continue to embark on more people-oriented projects in line with the policies and vision of Gov. Ikpeazu whom he described as a capacity leader and the rebuilder of Abia State.
In his address, the Chairman of the occasion and Director General, National Council for Arts and Culture (NCAC), Otunba Olusegun Runsewe, appreciated the organizers for maintaining the integrity of LOGMA since its inception till date.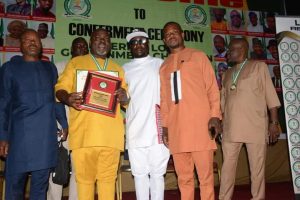 While calling on the FG, State, and National Assembly to assiduously work to ensure that the Local Government system gets full autonomy, he stated that council chairmen are in a better position to proffer solutions to the challenges that we are facing as a nation because they are more connected to the people at the grassroots than any tier of government.
Speaking earlier, the National Coordinator of Nigerian Local Government Chairmen Merit Award (LOGMA), Chief Bayode Ojo, welcomed and felicitated with the honorees for rendering qualitative service to their people across the nation.
Ojo said: "We conducted thorough research on public office holders (Local Government Chairmen) and we came up with an assessment where out of the 774 LGAs in Nigeria, only 28 LGA Chairmen met our criteria and were profiled for the prestigious awards today and winners were shortlisted and published in National Dailies for members of the public to subject them to further scrutiny
Chief Madu was as part of the prize gifted with a giant power-generating set by the organizers of the award.