The Living TV Film Academy an affiliate of Eastern Polytechnic Port Harcourt, will commence intensive making of films to include epics, contemporaries, glamour, comedies, skits etc, on the 20th January 2023.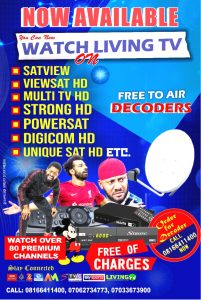 All the films produced will be serialized on Living Television with reach all over Nigeria and sub-sahara Africa.
Audition starts on the 20th of January, 2023.
THOSE INVOLVED:
1. Old and new students, both full time and part time.
2. Actors and Actresses who want to acquire Professional licence.
3. Journalists who want to do short certificate course in Journalism.
4. Students of other Institution who are studying related courses and need practical training.
PRACTICAL TRAINING
a. Film acting,
b. script writing,
c. practical Cinematography and it's techniques in Camera handling,
d. Directing,
e. Editing and Screen playing.
f. TV- Radio Presentation,
g. Broadcasting Journalism,
h. Digital marketing.
All the shooting and film making will be taught simultaneously with theories and practicals at our Ngalagu Film village in Isiala Ngwa South LGA, Abia State Nigeria.
Successful students will be awarded ND, HND and other Certificates including license as a professional Actor and or Actress by Ballywood a professional umbrella body gazetted by the federal government of Nigeria as a Trade Union for professional Actors and Artists in Nigeria.
Don't waste this rare opportunity.
Be part of this moving train. Lets make your talent and hobby a profession.
For further inquiries;
Visit our website www.livingtvfilmacademy.com, or www.livingtvnews.com ,youtube Living Tv Film Academy, facebook, instagram or our main campus at 1st Floor, No. 1 George's Street opp Eziama police Station Ikot Ekpene Road Aba Abia State Nigeria or call 08166411600 or 08053673900
MANAGEMENT