Rev Fr Paul Obayi, the spiritual director of Okunerere Consuming Fire Ministry, Nsukka, Sunday, said he might 'remove his religious clothes' as a Catholic priest after his co-ordained priests attacked his ministry's ground located at Nru, Nsukka, over land ownership.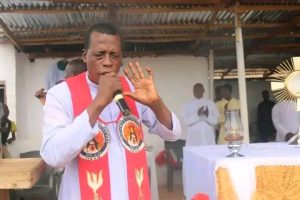 Fr Obayi, a professor, alleged the priests came on the authorities of the Bishop who had informed them that the expanse of land housing his (Obayi's) ministry, permanent sites of his primary and secondary schools, as well as his proposed university belonged to the church.
This was contained in a video he posted on his website. He had told the congregation during the Mass that, "It was the state government, during the administration of Gov Ifeanyi Ugwuanyi, that gave me the land where this ministry is presently situated with the certificate of occupancy.
"I had met Governor Ugwuanyi shortly after I was asked to shut my ministry behind Queens' School, Nsukka. I told Ugwuanyi it was meant for prayers. He approved it. It was not meant to be transferred to anybody."
THE WHISTLER reports that the Queen's secondary is owned by the Catholic, and Obayi was once a chaplain of the school.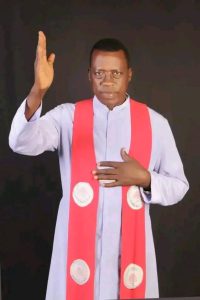 He said that after the land was approved to him by the governor, he informed his bishop, who visited the place. According to him, during the visit, they had agreed that a wing of the land be designated for the Marian Shrine.
Quoting him, "[Last] Saturday, which was the Marian Day, the bishop informed priests that major parts of Okunerere land belonged to the church; that I got it for the church from the state government. That was how priests wanted to park inside the premises.
"But because the gate was locked, they pounced on everything, broke the gate and forcefully gained entrance to the amazement of many people who had come from far and near for spiritual matters.
"So priests can grab land! I belong to the church, and will never run with the land. When I got the papers of the land, I told the bishop, and he told me to give them to Fr Omeje.
"He said it would be used for Marian Shrine, but I told him it was meant for adoration. I reminded him about the 25 plots I had given to the church, and asked him why they wouldn't use them for the purpose."
Obayi recalled his contributions to the church, and wondered why the hierarchy would be after him.
He said, "At Umuopu, Igboeze North as parish priest in 2003, I built eight rooms for the priests. At Ogrute, the upstair behind the parish was built from the proceeds of Okunerere ministry. I didn't touch 'church money'. I only touched church money in 2007 when former Bishop Okobo asked me to build the church at Umushene where I was posted.
"At Ogrute, I acquired where Shanahan Hospital is presently situated. It was originally used to treat people with mental health. When I was leaving, I gave it to the church because I belong to the church.
"At Umushene, I spent N21m to complete the church and fathers' house before I left. It was started by the bishop. That was in 2008. I also built two other bungalows. I don't hide anything. Everything is for the church, yet they want Obayi to be killed.
"At a time, power supply at the Cathedral was epileptic, including Bishop's house. I bought a transformer and installed it there, and it is what is being used till today. I used to keep shrines [recovered from converts] at the Cathedral. Bishop told me to remove them. I spent N2.1m to build a museum where they are presently kept. When I told Bishop I had built a museum for those shrines, he demanded to know how I got the money when he had stopped sales of Olive Oil.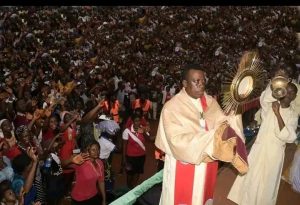 "At Obimo, the community gave me 25 hectares of land. I spent N55m constructing roads on the hills, and also built 55 rooms – self contained. The church asked me to surrender them, and I gladly did. Bishop said it would be used for the Nsukka Pilgrimage Centre.
"At Obollo, as a parish priest, I built the church and the parish house at about N10m. It was dedicated, but within two months, I was posted to Ikem where kidnappers were ravaging. One amazing thing during the dedication was that my name was never acknowledged to have contributed anything at the event."
He also lamented that despite his recent promotion as professor that Nsukka Diocese where he serves refused to announce it as is being done to his colleagues.
In his words, "I was an associate professor but was never announced as is being done to my colleagues. Why? Despite all I do for the church? At Nguru, I gave my personal land to the church, then added my personal house to it. That is my father's house.
"Why is my present location the target with Reverend Fathers breaking the gates? Were they sent? One of them drove in, claiming the ground isn't any priest's house. During one of the ordinations, it was Okunerere Table Water that was drunk. My reward was that I was told that the cocks were not well fixed.
"Don't priests know how to pray? God is perfect, but mankind is destroying our good world. This oppression is too much. My fellow priests don't want to participate during my adoration because they don't want to be posted to remote areas.
"I have invited Bishop to the ground, but he said he doesn't know what we do here. Former Bishop Okobo came, and was overwhelmed by people who wanted him to attend to them.
"During Pentecost, if my name appears for participation, the list will be torn. I don't appear at Charismatic any longer because of this. I was billed for a crusade in London after having done that for about 10 times. But the bishop said I was going to preach heresy."
Obayi said he might quit as a Catholic priest. In his words, "Let them leave me alone. Any priest that has done more than I did for this diocese should indicate. I am waiting when they will throw me away to take over this place.
"If I leave, know that I am gone. I won't refuse the takeover of this place by the church, but I should be allowed to use here to serve God. I dream of Okunerere schools and the university flourishing here in Jesus name, Amen."
Fr Obayi, an excorcist, is a black-belt holder in karate. He stated that he renounced cultism to become a Catholic priest in one of his books