Scrutiny over profligacy in statecraft and fiscal recklessness has shifted from the centre to Lagos, the supposed Centre of Excellence, and its peers at the weekend, as the state government was kicked for what its critics described as frivolous procurements, which run into several billions of naira.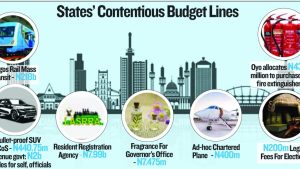 Other states in similar baskets are tied with the Lagos State government in a campaign that shocked the social media space, reports The Guardian.
This comes at a time when the country is enmeshed in a revenue crisis with the current administration tottering around a fiscal cliff and a debt mess not seen in the history of the country.
Funso Doherty, a chartered accountant and governorship candidate of the African Democratic Congress (ADC) in the 2023 election, had hit the social media trend lines at the weekend, after writing an open letter to Gov. Babajide Sanwo-Olu, requesting an explanation over certain budget items he dismissed as frivolous and requires "greater scrutiny".
"Under the office of the Chief of Staff, procurement of a brand-new Lexus LX 600 bulletproof sport utility vehicle for use in the pool of office of Chief awarded for the total sum of N440,750,000.
"Replacement of liquid fragrance in the office of Mr. Governor, Lagos house Ikeja awarded for the sum of N7,475,000.
"In addition, Decorations for the venue of political delegates for the sum of N20,084,550.
"Flying hours expenses for ad-hoc Charter plane by Lagos State Government awarded for the sum of N400,000,000," he wrote.
The attached document, which has set the Internet on fire with millions of netizens joining the politicians in calling for probity, claimed the government allocated N69.94 billion for the rehabilitation, reconstruction and upgrade of the phase of the Eti Osa/Lekki Epe Expressway (phase b) from Greensprings to Abraham Adesanya in Eti Osa and Ibeju-Lekki local government.
It added that sundry consultancy services received generous allocations ranging from N2 billion to N7 billion from the state, which has been bleeding, like every other state in the country.
The call comes while the state goes cap-in-hand in search of funding from the private sector for critical infrastructure, including rail and road projects.
Two weeks, the governor was in Marrakesh, Morocco where he pitched Lagos to international investors at a boardroom session where he touted Lagos as a city where every African and other people in the rest of the world could come to "play and work".
In an exclusive interview, he told our correspondent that infrastructure was on top of his shopping list as he mounted the rostrum to engage the international community on the opportunities the coastal state offers.
Recently, Sanwo-Olu signed a partnership agreement worth $1.35 billion with the African Export-Import Bank and Access Bank for the construction of the long-proposed Fourth Mainland Bridge, the Omu Creek Project, the Second Phase of the Lagos Rail Mass Transit and Blue Line from Mile-2 to Okokomaiko.
Also, the state is sinking into a debt crisis like every other state in the country. As at the end of June, the state government sat close to one-sixth of the total domestic debts owed by the sub-national entities. In absolute terms, it owed N996 billion to local debtors captured and managed by the Debt Management Office (DMO).
Its $1.26 billion external debt is also disproportionately higher – almost 30 per cent of the value of external debt commitments of all the 36 states and the Federal Capital Territory (FCT).
But the state government has argued that it is unequally yoked with its peers in terms of debt-carrying capacity – the ability to pay, internally-generated revenue, infrastructure need and size of the economy.
Yet, critics said the state government ought to have shown an example in terms of fiscal discipline and others. They are particularly piqued about the nature of expenditures the government has to shoulder.
The spending of over N20 million on political delegates has particularly caught the attention of social media critics. Such responsibility, some have suggested, should have been passed on to the political or offset by the governor.
For featuring in the state procurement book and many others, Prof. Sam Amadi, a lawyer and rights activist, said that redeeming the state is a near impossibility, adding that it has been hijacked by intellectual hypocrisy.
Interestingly, the contentious expenditures are partly funded by debt, with a projected deficit amounting to ₦350.411 billion.
But it is not only Lagos that is battling to assure taxpayers that it has not chosen luxury and waste in place of prudent resource management. The Oyo State government is also being called out to explain how it spent N43.5 million to purchase 55 fire extinguishers in the current budget.
Several other governors face similar queries in what is currently assuming an organised social protest over the state governments' questionable expenditure lines.
According to state statistics, Benue State Governor Hyacinth Alia has also sanctioned N2,040,780,000 for the purchase of cars for himself, his deputy, members of the House of Assembly, and other state officials.
The money was approved on September 5, 2023, according to state financial documents. It is just one of the governor's many questionable expenses, which have totaled more than N40 billion in just five months.
In Abia State, there are concerns that the state government is also spending huge sums of money on road projects and office maintenance.
Meanwhile, opposition parties in Lagos State have lampooned Governor Sanwo-Olu for being insensitive to the plight of the people passing through excruciating pains without meaningful palliatives from the government.
They said it is unfortunate to discover billions of naira budgeted and spent on questionable projects and items in the state.
The Lagos State chapter of the Peoples' Democratic Party (PDP) yesterday condemned the "extravagant" spending of Sanwo-Olu and the ruling All Progressives Congress (APC) administration in the state, particularly about the 2023 budget.
Speaking with our correspondent, the state's publicity secretary, Hakeem Amode said it is crucial to scrutinise these expenditures to ensure accountability and transparency for the benefit of the people.
He stated that despite being a centre of excellence, Lagos State is in dire need of comprehensive infrastructure development covering vital sectors such as road networks, education, healthcare, environmental services, housing, security, employment, and agriculture, among others.
According to him, this concern arises because of recent discoveries regarding the state government's expenditure, raising questions about the judicious use of public funds.
"Several line items in the 2023 budget reveal the profligate spending of the Lagos State Government: N7 million for air fresheners, N400 million for Charter flights, N20 billion for consultation fees, N531 million for Church renovation and N20 billion for fans, lighten and fridges.
"We hereby call on concerned agencies to thoroughly investigate these projects and expenditures to ensure transparency and accountability in the use of public funds meant for the development of Lagos State.
"As a party, we advocate for good governance and believe that the people of Lagos deserve better."
Speaking in this vein, a public affairs analyst and Convener, Reset Lagos PDP, Dr Adetokunbo Pearse flayed Governor Sanwo-Olu's outrageous spending in the state, saying that it was uncalled for in this time of severe economic hardship for the people.
"At any time, it would be outrageous for the Lagos State government to allocate N 7 million naira for the procurement of Air Freshener, 400 Million naira for Charter flights, N2 billion for fans and fridges, N20 billion for Consultants and N30 million per month for the office of the wife of the deputy governor.
"In these times of severe economic hardship for the citizens Nationwide, this reckless spending of taxpayers' money clearly demonstrates that Governor Sanwo-Olu, and Lagos State Assembly couldn't care less about the people who voted them in office.
"They claim that there is insufficient funding for Education, Health, and Public Transportation. Most of Lagos neighborhood roads are in a state of disrepair, and you dare to allocate N30 million monthly to your spouse.
"This monumental insensitivity is a sin against God and Man.! We call on all the residents of Lagos to rise in protest against it now!
"And shortly, at the next election, we want Governor Sanwo-Olu, the sycophants, and the Obasa-led rubber stamp Assembly to know that we, the people, will pay them back for this transgression against us.
"They have lost our trust. They have failed to govern with the fear of God. They do not deserve our vote and will not be getting our support!"
On his part, Labour Party (LP) gubernatorial candidate in the last election, Gbadebo Rhodes-Vivour described it "as frivolous spending and scandalous, adding that it was irresponsible for the state government to spend taxpayers' money with such recklessness and impunity.
"And the citizens are rightly outraged by this mind-boggling corruption, especially having to deal with the current economic downturn brought about largely by the incompetence and sheer mismanagement of the economy by the APC.
"How can the governor have the audacity to pay his legal fees with state resources? How can they be spending billions on websites and cannot sustainably subsidize public transportation? The governor's actions are utterly ignominious and he should resign his posting immediately. I also strongly believe that the Speaker of the Lagos House who has failed in providing appropriate oversight should also resign his position as speaker forthwith.
"To your question about the implications of this reckless spending, I would say they are obvious and predictable. Firstly, it explains why there are not enough resources to carry out people-oriented projects in Lagos state. It explains why our roads are terrible, why we can't power street lights, why the boats on our waterways are rickety, why public transportation is expensive, why there isn't an affordable housing scheme and why quality healthcare services aren't extended to the vulnerable.
"In clear terms, what this data has revealed, and I campaigned vigorously on this, is that the state is working hard to enrich a few politically connected individuals and their cronies while taxpayers are left in daily misery. It is unacceptable and we cannot continue like this."
However, Lagos APC's Publicity Secretary, Seye Oladejo stated that "budgets are proposals of government spending."
Speaking to our correspondent, he said, "It's money on paper, not expenditures. I don't know why a budget proposal should cause a cry. Lagos PDP has never been in government, hence the lack of knowledge. And that is why we will not mind as a party helping the PDP to be knowledgeable on government functioning by organising a training/workshop to learn the rudiments of government.
"There is no cash backup to the proposal, but if there's a reason to want to commit funds to such in the future, they will.
"It's like allocating money for an emergency, which cannot be predicted. If there's no need to spend the money, it will just be on paper.
"It's just a budget estimate; it is nothing anyone should lose sleep over. A lot of time, most of this budget ends up not being spent. They are estimates, it doesn't mean money has been allotted to them. The opposition should stop clutching at straws, elections are over."