Aminat Taiwo, a freed victim of the Lagos-Ibadan Expressway kidnapping, has described how her father paid N3.2million to her captors before she and her companion, Tobi Orekoya, were released.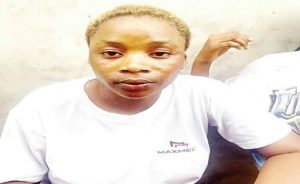 Aminat revealed on Monday that the kidnappers shot dead some of their victims whose relations could not bring the demanded ransoms.
Speaking with PUNCH, she complained that they were not given food or water throughout the period and stated that some of the captives who did not reach the deadline for paying the ransom were shot dead.
The 22-year-old graduate, who described her situation as harrowing, claimed they were ambushed by the kidnappers while on their way to attend a friend's wedding in Ibadan.
She said, "Those kidnappers were more than 30; they covered their faces. They were putting on army and police uniforms.
"They were armed to the teeth; they had guns, swords, knives and other weapons. They asked us to lie down and collected all our money and phones. They collected gold chains, wristwatches, and other jewellery.
"At first, we thought they just wanted to rob us, but to our greatest surprise, after stripping us of everything we had, they asked us to start moving inside a deep forest. We walked for more than two hours inside the forest.
"We were moving in the forest for several hours; they did not give us water or food. We licked water on leaves in the forest. For the two days I spent with them, we did not stay too long in a place before they moved us to another place."