The Directorate of State of the Indigenous People of Biafra is very much concerned about the report we received regarding the present health condition of Mazi Nnamdi Kanu the leader of the Indigenous People of Biafra, who is still being illegally held in the custody of the Nigerian Secret Police, the DSS, notwithstanding the fact that the Nigeria Court of Appeal discharged and acquitted him of all the trumped up charges brought against him by the Nigerian Government.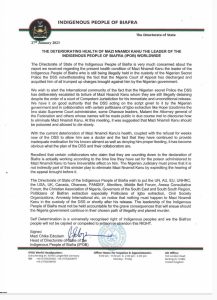 We wish to alert the International community of the fact that the Nigerian secret Police, the DSS has deliberately escalated its torture of Mazi Nnamdi Kanu, whom they are still illegally detaining despite the order of a Court of competent Jurisdiction for his immediate and unconditional release.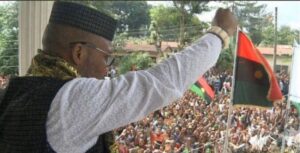 We have it on good authority that the DSS acting on the script given to it by the Nigerian Government and in collaboration with certain politicians of Igbo extraction like Hope Uzodinma, the Imo State Supreme Court Administrator, some Ohaneze leaders, Mr Malami, the Attorney General of the Federation and others whose names will be made public in due course, met to discourse how to eliminate Mazi Nnamdi Kanu. At this meeting, it was suggested that Mazi Nnamdi Kanu should be poisoned and allowed to die slowly.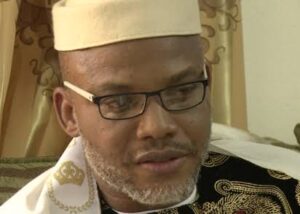 With the current deterioration of Mazi Nnamdi Kanu's health, coupled with the refusal for weeks now by the DSS to allow him to be seen by a doctor, and the fact that they have continued to provide inadequate medication for his known ailments and deny him proper feeding, it has become obvious what the plans of the DSS and their collaborators are.
Recollect that certain collaborators who claim that they are counting down to the declaration of Biafra, are actually working according to the time line they have set for the poison administered to Mazi Nnamdi Kanu to have irreversible effect on him.
The Nigerian Judiciary must prove that it is not indirectly part of this sinister plan to eliminate Mazi Nnamdi Kanu by expediting the hearing of the appeal brought before it.
The Directorate of State of the Indigenous People of Biafra wish to put the UN, AU, EU, UNHRC, the USA, UK, Canada, Ohaneze, PANDEF, Afenifere, Middle Belt Forum, Arewa Consultative Forum, the Christian Association of Nigeria, Governors of the South East and South South Regions, Politicians of Biafran extraction, especially Politicians of Igbo extraction, Civil Society Organizations, Amnesty International etc, on notice that nothing must happen to Mazi Nnamdi Kanu in the custody of the DSS or shortly after his release.
The leadership of the Indigenous People of Biafra must not be held accountable for the grave consequences that will ensue should the Nigeria Government continue in their chosen path of illegality and planed murder of Mazi Nnamdi Kanu.
Self Determination is a universally recognised right of Indigenous peoples and we the Biafran People will not be cajoled or compelled to jettison or abandon this RIGHT.
Signed
Mazi Chika Edoziem
Head of Directorate of State of the Indigenous People of Biafra (IPOB)