The bizarre and brazen blackmail against IPOB and ESN by the Nigeria Government and her Security Agencies shows that IPOB remains the only obstacle to emancipation of Biafra Land. Nigerian Army spokesperson should keep making caricature of their institution by their constant illusion of killing ESN Operatives. IPOB and ESN have no problem with Nigeria Security Forces, but should ESN decide to engage Nigeria soldiers, they will not have the mouth to boast.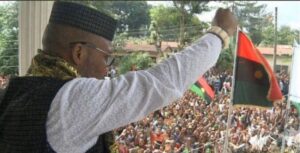 ESN are disciplined and focused on their primary objective of dislodging Fulani terrorists nicknamed herdsmen from our farmlands and forests. They do not engage the Nigeria Security Forces nor are involved in any criminality. Unfortunately, the shameless Nigeria Military keep making caricature of themselves by fake claims of capture and killing of IPOB members or ESN Operatives . For clearity purposes, IPOB members are not terrorists. Neither are they in the bushes and forests to displace Biafrans who decided to agitate for self-determination peacefully. Whereas ESN Operatives are IPOB volunteers who are keeping the land in peace against Fulani terrorists terrorising the entire Biafra Land. Let it be on record that Nigeria Security Forces, particularly Military, are committing genocide in Biafra Land. The people they claimed to have killed always are innocent Biafrans, not ESN Operatives. ESN Operatives are not on the streets of Biafran and can't be captured or killed like civilians. If Nigeria military go after ESN Operatives doing a legitimate job to secure our forest and farmlands, they will also count their loses. For one ESN Operative to go down, 10 Nigeria soldiers will go down.
Nigeria Security Agencies know that there are criminal gangs in the Southeast region parading themselves as ESN. The ESN under the command of Mazi Nnamdi KANU does not parade themselves because they are focused and disciplined on their assigned tasks. ESN does not have a social media handle and doesn't engage in social media showbiz.
Nigeria Government and her Security Agencies should stop displaying their unprofessionalism by linking ESN or IPOB family members to the activities of criminal gangs. Some of the criminal gangs in the East, such as Ebubeagu and infiltrator gangs, are creations of the Nigeria Government through DSS to blackmail IPOB under Mazi Nnamdi KANU'S peaceful struggle.
No eighty (80) IPOB volunteers or ESN operatives were arrested by the military.The fake claim of arresting 80 IPOB volunteers or ESN members by the military is a hoax and should not be believed. If indeed military arrested persons, they must be innocent Igbo youths or criminals enforcing sit-at-home in the East. Military presence in the Southeast Region, Biafra land is basically for three (3) purposes
-extortion of money from Biafra motorists
– providing a safe heaven for their infiltrator criminal agents, and
– protection of Fulani terrorist herdsmen.
How can the military provide security when they are busy collecting money at the numerous checkpoints mounted around the whole of the Southeast Region. Nigeria military arresting innocent Igbo youths in the name of IPOB and ESN to justify the indiscriminate and illegal checkpoints in the East. IPOB are the people, and the people are IPOB. Let the Nigeria military solve the puzzle.
The public must know that Nigeria Police and Army personnel are not in the South to provide security. Instead, they're  busy raping young ladies and stealing from the public at various illegal checkpoints in the country, especially in the Southeast.
If Nigeria Army arrested 80 IPOB volunteers or ESN Operatives as they claimed, they should arraign them in an open court for proper investigations, not their kangaroo media blackmail where they force or stage confessions. Nigeria Army know those involved in this criminality going on, but they would lie to deceive the gullible public to believe they are doing their work. Nigeria military and Police have ridiculed their reputation because of their hatred and antagonism against Ndigbo and the IPOB movement.
Professionalism and decorum have eluded Nigeria Security Agencies, all arms of government (executives, legislature, judiciary), and some compromised media houses. What else can qualify Nigeria as a pariah state?
COMRADE EMMA POWERFUL, MEDIA, AND PUBLICITY SECRETARY FOR IPOB.