The National Collation Centre of the Independent National Electoral Commission (INEC) has adjourned to Monday, February 27, 2023 by 11am.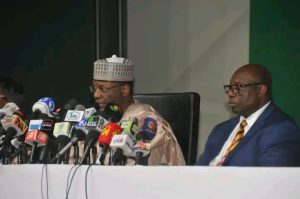 Recall that the Centre formally opened at about 1pm on Sunday afternoon and went on a break after sitting for less than 30 minutes to reconvene by 6pm because there was no any presidential election result from 36 States of the Federation and FCT available.
The Chief Returning Officer of the Federation, who doubles as the INEC chairman, Prof. Mahmood Yakubu, on resumption at some minutes past 6pm on Sunday evening, called the Returning Officer for Ekiti State, Prof. Akeem Lasisi, who was ready with his results, to present same.
Prof. Lasisi presented the following results, among others:
APC – 201,494
LP – 11,397
NNPP – 264
PDP – 89,554
Total Vote Cast – 314,472
Thereafter, Prof. Yakubu asked whether other Returning Officers from States and FCT were available and in the absence of none, the National Returning Officer adjourned till Monday by 11am when it was expected that other results from across the country might have arrived the National Collation Centre in Abuja.
As it stands, results from 35 States of the Federation and FCT Abuja were being awaited for formal announcement.