A versatile medical practitioner, a Nigeria and Canada trained specialist in family medicine and a consultant from Isiala Mbano, in Imo State, Dr. Emmanuel Ogueri has drummed support for the incumbent Governor of Imo state, Sen. Hope Uzodinma in his bid for a second term in office for the forth coming November 16, 2023 Imo State Governorship election.
In an interview with www.newsmirrorng.com, in Owerri, the medical Doctor, who was one time Imo North Senatorial candidate under Action Alliance ( AA ), revealed to NEWS MIRROR that he dumped his former party, the Action Alliance (AA) for All Progressives Congress ( APC) because of the giant strides of Gov. Hope Uzodinma in the whole of Imo State.
Dr. Ogueri told our reporter that, when you look at all the candidates for the 2023 Imo Governorship race, that Gov. Uzodinma stands firm as the best amongst the lot.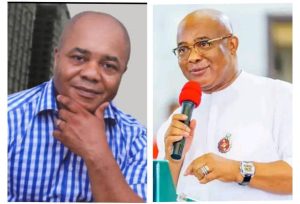 He said", " When you look at the candidates, we should consider the best person and Gov. Hope Uzodinma is the best that can advance Imo State in terms of infrastructure, education and fighting corruption",
Dr. Emmanuel Ogueri said the current problems confronting Imo state is security challenge but is confident that, despite low funds coming to the state through Federal allocation, that the Governor has battled insecurity issues to a standstill.
He maintained that despite distractions, Gov. Hope Uzodinma is determined to improve the infrastructures of the state, citing the Owerri to Orlu, Owerri to Okigwe and Owerri to Umuahia roads as some of the critical road infrastructures the governor has embarked on, which he described as quality roads, handled by quality contractors.
Dr. Emmanuel Ogueri said, one of the things he like about the Imo state Governor, Uzodinma is his emphasis on zero tolerance for corruption as he always admonish his aides and others working with his administration, he will not tolerate corruption in any guise.
" I have sat down to study him and his achievements, I am not saying he is a perfect man , nobody is perfect man but Gov. Hope Uzodinma should be allowed to continue", he has done well and will do more", he added.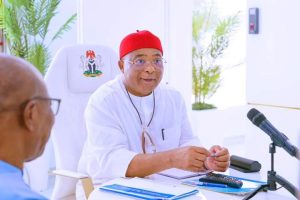 Dr. Ogueri insist that Gov. Hope Uzodinma has the qualities that will make Imo state to progress and therefore, appealed to all Imo citizens to join hands to give him another term of 4 years in office
" I want Imo state to be one of the best states, we don't need people that make fake promises or propagate propaganda to deny Imo this wonderful opportunity to advance the state. All we want is a better and developed Imo state and Gov. Hope Uzodinma has all it takes to lead us to the Imo of our dream", he concluded
Video