The governorship candidate of the Action Democratic Party (ADP) in Imo State, Kachi Nwoga, has hinted on how he would address insecurity in the state and beyond, if elected governor in the scheduled November 11 gubernatorial poll.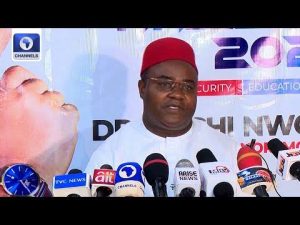 Nwoga, who claimed that banditry was easy to tame, said that he would engage both the state and local apparatuses to halt the scourge.
He pointed out that insecurity fester because it had been politicised by the government.

The medical practitioner accused the Imo State government of stifling opposition political parties by imposing N54 million for gubernatorial advert permit, which he described as sinful and outrageous.
Why are you contesting?
I am here because there is a disharmony between where Imo State is and where Imo ought to be. Imo is that same state that has the highest literacy rate in Nigeria. Imo is the state that produces the highest number of people seeking admission into higher institutions. Imo is the state that has the third biggest airport in Nigeria. It has the fourth highest destination for packaged goods in Nigeria. It is the state that has the fourth busiest GSM switch in this country. For that kind of state, the state should not come outside the fourth position in the indices of living, in GDP, in revenue collection, in income per capital, in jobs, employment rate, infant mortality, even in HIV/AIDS. But where do we find Imo? Everything is all down; we are in double digits. It is very surprising, but very painful. And this state obviously is living far below our potential. That is why I am in the race. I want to realign Imo to where Imo belongs. What it means is that all these things that Imo has, it means that the government that has come to Imo State has not built on what the state has. Imo is a natural home of tourism. It has the highest number of hotel rooms per square mile in the whole of West Africa. Owerri in particular has that. You do not find government policies and programmes that are actually doing anything at all to encourage any of these things that Imo does. Instead, we even have policies that are pulling them back. So, we need to realign. All we are telling us is that if we put the right government in Imo State, Imo can assume a greater state. When you mention Lagos, Abuja, Port Harcourt, I do not see anywhere that should come before Imo State. And we can do it by deliberately encouraging and building on the natural strength of the state in terms of education and tourism. We can do that and do those. Imo people want the good things of life. Today, the biggest challenge of Imo State is insecurity. Imo is so insecured that even this gathering that we have today is not the gathering we can easily have in Imo State, and Imo people want to be secured. When we secure the people, Imo people can have the free education they have always yearned for. Imo people love education. Imo can have the jobs they should have. How can we be sending the highest number of youths to school and yet we still have the highest unemployment rate. People are going to school with the hope that they can get jobs and they have to get jobs. But they are not. It is unfortunate that in spite of the challenge of insecurity that we have we expect that everybody will mellow and look for solutions, especially those at the helm of affairs who love Imo. We should be looking for how to calm the state down and pull us out of this insecurity mess. Unfortunately, painfully, certain policies of the government are threatening to make everything even worse. Apparently, the government does not seem to be sensitive to the security challenges of the state. This is an election season. I just sent letters of complain of political parties that have been made. The opposition is not allowed to breathe. I cannot go and put up a billboard today. Because when you are telling me to pay you N54 million to put up a billboard it means I cannot put up a billboard. I do not know of any state, even if you convert it to dollars, nobody can charge this kind of money. It is obscene. It is atrocious. It is sinful. That is what they are asking the opposition to pay. I dare to ask: Since the entire state is filled with the billboards of one particular person. I really want to know how much the state has made from that one person, if this is this much we have to pay for billboard. If you brand your cars, you will see them obstructing, picking and confiscating cars that are politically branded. They call it gubernatorial advert permit. How on earth do you have something called advert gubernatorial permit? But you see, they have, somehow, they appear to cow everybody. Because I expect everyone to be speaking out. We have the Nigerian Bar Association. They can say 'no you can do that'. 'This cannot be tolerated.' But they are all quiet. The Labour Congress is very quiet. Even the press is quiet. What is going on? A healthy opposition is very important for governance. And when you succeed in stifling opposition, which is never going to happen… By the way, if this country is going to allow people to sit in office, whether it is the president, governor and, make it impossible for people to even campaign and advertise themselves, is there any bigger rape on democracy than that? If one person can get away from it, people will be worst than that and expect to get away with it. I want the eye of the press to be in Imo State and I want them to ask the right questions. I want things to work normally so that we can all be happy and get working. People will be happy to make their choices. That I believe is what democracy is all about.
*How acceptable is ADP in Imo State?*
Imo people are advanced. Imo people have learnt and can learn to live above party. On February 25, Imo people voted Labour Party. At least 80 per cent. Labour has never won a single councilorship before then. I believe I am the candidate Imo needs at this time. And Imo people will follow me to wherever I am and vote for me. Imo people have shown that. I am sure you remember that the PPA had won an election. APGA has won a governorship election in Imo State. As a matter of fact, the last time the PDP won election in Imo State was in 2003 in Imo State, at least following the official results. So, what I am trying to say is that Imo people will follow who they want and go to their party. Actually the Action Democratic Party (ADP) is a very disciplined party. It is a party that starts from the grassroots where decisions are made to the top, which is there is no rancour in the ADP. In fact, in Imo State in particular, I think we are probably the only party that has never had crisis.
Why is the government of the day uncomfortable with providing a level playing field for the opposition to sell themselves?
I don't know. I wish you should just go and ask them. I think they have everything. I think they have the state resources. They hold the insecurity even though I think the insecurity has been weaponised. If I ask people to go to Owerri everybody will begin to get worried. So, insecurity has been weaponised. Don't come so that they can have their way. I don't know why. Being in government does not mean you will be in government tomorrow. So, let us not set a standard that can lead us to hell. By the way, I think anybody who is confident about the people liking him and will vote for him, will not go this far.
At what point that Imo State got it wrong that it is now in the news for the wrong reason?
What you see today in Imo appears to be the same hand of imposition of everything to insecurity. These people are coming from somewhere to a community wearing outfit nobody can identify and they are armed. The average people in the community do not know whether or not it is adversary or the security in the community because it is the same thing, whichever way, they get punished; they get beaten up. They get harassed. They get intimidated and even killed. If the security apparatus does not enjoy the confidence and trust of the people, can it function? The answer will be a no. They can never succeed. If you do not have a security apparatus that is endeared to the people and run to them and not the one the people will run away from then it is a failed system. Today, town union presidents are appointed from one place, not from the community. There is no community that is not crying. So, in an average community, you have a town unionship that is of the community and not recognized and you have another one that is imposed on the people averagely recognised officially, but not recognised by the people. Why will they not have insecurity? By the way, if I am elected as governor, I will never sit down and start appointing town union presidents. I will never do that. Put it on record. I think that is something for any governor who understands his role will not get involved in. I am a stickler for letting institutions work. That is how you get the best of institutions, whether it is religious or cultural, let the institutions run and thrive and develop and go out to places they are supposed to be going to. An institution of the community will get the confidence of the community. My job as governor is to work with those that have been thrown up by their own systems. But because of politics I now want to appoint everybody. If I come to NUJ, NGE and impose leadership on you, would you work with the person? Will I get results working with that person? I will never because I will always oppose you. By the way, that person, to regain my confidence will always tell me lies about the rest of you. But when I apppoint the person you love and you have selected and I sit and work with him, you will start loving me out of the fact that I am working with the person you love. It is very simple. But it is very difficult for those who do not mean well for the people. We are complicating every single institution because of this kind of thing and that is why the people are not happy and prospering. So, the people that should have been your partners in solving this problem are now disconnected from you. How on earth can that problem be solved? And those of us who do not want to come in, the least you can do is to hear me and when we get into government then use what I say to change and correct what we are doing. Who knows, you can do it better and the people will like you. But you do not want to hear me out. You do not want me to talk. Are you making your own case worse? Are you not making the people's case worse?
How will you tackle insecurity in Imo State?
As you said, Imo people are the most peaceful people on this planet, if not on earth. Because people who love to enjoy themselves and love visitors are not people who are violent. The point is that something has gone out of whack. Most of these people are not traceable to Imo people. The first I will do differently is to have home-grown security as a first line of security. In the home-grown security, we will give them the support through sophisticated equipment, communication and then align them with the state's security apparatus. I have seen results come out in Imo State when the state's apparatus aligned with the local apparatus. The local apparatus understands every nook and cranny. When you combine those two you get results. Never politicise insecurity. As the chief security of the state, I will take full responsibility. God knows I will never sit down and look for who to blame. You do not mix insecurity with politics because the results will always be bad; 43 per cent of unemployment is insecurity on its own. Do you know that I can create 5,000 jobs in two weeks as a chief executive? It is not a tale. I can tell you how it is done. I have done it before. In Abia State, in the last one and half years, did you hear of any killing or kidnapping? Yours truly was involved in the programme. I was invited by a state consultant and I designed a programme that converted a non-power sector to electronics. The same people you call area boys are now using applications to do their jobs. I converted their knowledge on the streets to work. Now ask me how much it costs the state government? Nothing. Instead those people generated N1.4 billion in 2022. The Nigerian Bureau of Statistics (NBS) has the statistics. As at March, we had 1,238 people in that system. Those who wanted to be mischievous did not find the people to hire again because these people got involved in working. This is just for a tiny programme. How much more if I am the chief executive? I am showing you a verifiable result. And I am showing you how it can be done. It is not a campaign promise. Then there is a global one which we have to deal with in the Southeast and I will share it with my fellow governors and see how we can achieve that.
What is the N54 million meant for? Also are you posing some kind of threat to Governor Uzodimma's re-election for him to impose such an exorbitant fee?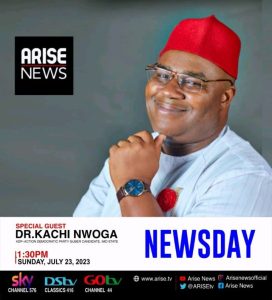 It is meant for gubernatorial advert permit. In fact, that you cannot even wear my face cap and T-shirt. And you still have to pay for each billboard of N200,000. Nobody already has victory. We will enter the field and people will decide. But I know that as a governor if I feel secured, I will let you put your posters all the way to my Government House. It will not change anything.
Have you discussed with your national chairman who is the leader of IPAC?
The issue has been raised and he said he was going to query the government. I do not think that has been done. We will do our bid from where we are.
Why didn't you just pay the money?
I am not so desperate to be governor that I will do anything illegal. I want to be governor because I want to better Imo State. If you show me somebody who can do all these things today I will support him to do the job. I do not accept that people should be too desperate to be by governor that they will do anything. By the way, if people are ready to do just anything to be governor then they are going to do everything.
Culled from SUN