A 50-year-old Beninese farmer, Poni Bada, left his country home for Nigeria, with his unsuspecting nine-year-old son, who he intended to use for money rituals.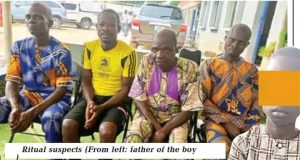 Three other men: Ige Koselu, Benjamin Balovi and Segun Shile, accompanied the farmer to a herbalist's home in Owode area of Ogun State, where the money ritual was to be carried out.
The trio contributed N100,000 needed to start the ritual process, with an agreement to have their share of the loot when the ritual is successful and money start to roll in.
But that was not to be, as a team of policemen from the Zone 2 Command, Onikan Lagos, who acted on intelligence, stormed the herbalist's shrine and effected the arrest of all the suspects, while the would-be sacrificial lamb was rescued.
Explaining how he came up with the idea of using his son for money rituals, the father of the boy, Bada, said: "I have 10 children from three wives.
"The situation of things kept going from bad to worse. I could not feed my children. I then decided to use my last child, Agbe, for a money ritual, so that I could train the other children and have better living conditions.
"In May 2023, I left my home town in Jakotome, Benin Republic for Nigeria, to visit my brother, Benjamin Balobi, at Ilaro, Ogun State, who earlier told me he was doing well as a farmer and that the owner of a farmland was looking for labourers.
"That was how I brought Agbe to Nigeria to work.
"But the thought of using him for a money ritual came up when I realized that the money paid as salary to my son was very poor.
"I told Balobi to help me get a herbalist that would help me with the money rituals; he said he knew no one but promised to help me find a herbalist who might have information on it.
Vanguard.