Today,Friday,thd 20th October 2023, marks a glorious and historic milestone in the life of Ukwa (Ala Asa) people as the official FLAGGED OFF of UKWA ELECTRICITY PROJECT by the Niger Delta Development Commission NDDC took center stage.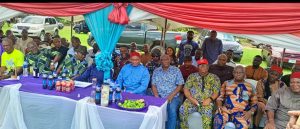 It is on record that Ukwa West,the goose that lays the golden egg and which is believed to be the economic pavilion of Abia state have wallowed in darkness over 13years which has adversely affected the development of the area.
But,the Abia State Representative on the Board of NDDC,Dr Eruba Dimgba in his pragmatic approach in leadership understood the negative resultant effect of living in darkness and decided to take the bull by the horns by ensuring that that the Managing Directorof NDDC, Dr Samuel Ogbuku was inundated of his people's plight which today is a reality after an approval by the MD.
It began today with the contractor signing document's with the people of Ukwa indicating his preparedness to swing into action for the purpose of realizing the objective of the New Face of Niger Delta Development Commission NDDC on award of contracts.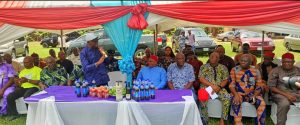 There were freewill contributions from the sons and daughters of Asa land to consolidate with that of NDDC which is the interventionist agency, The good people of Ukwa West have continued to appreciate the President, Chief Bola Ahmed Tinubu for a painstaking choice in constituting the present governing board of NDDC.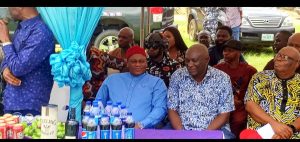 In similar vein, Chief Eruba Dimgba in the month of April been the first quarter of the year, 2023 made an official visit to Ozata to witness damages caused in the community by thunder storms which he discribed as black day. Since the ugly event, he has been working tirelessly to restore the people of Ozata to normalcy.
In his continued attempt to restore the Ozata community back to a better condition, the NDDC FLAGGED OFF a modern Community Hall Project and the reactivation of the electricity including others.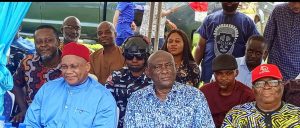 The people commended his fatherly attitude and representation and promised to support the policies of President Bola Ahmed Tinubu's government for remembering them.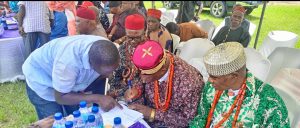 It is on record that the contractor handling the project also signed a site handover document which he promised to deliver according to the rules and standard of Niger Delta Development Commission NDDC.
The contractor demanded for the contribution and cooperation of the people of Ozata which will enable him execute the project at the agreed time as scheduled. The community in their resolution assured the contractor of a safe working environment.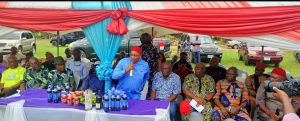 The event attracted all the Party(APC) members at the LGA Level, The Traditional Rulers,the 37 CDC Village Chairmen, The Asa Development Union representatives, and the Leaders of thoughts in Asa.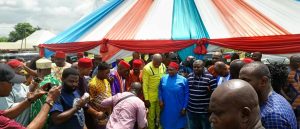 Reacting to the appraisal from the All Progressives Congress, the Traditional Rulers and eminent sons and daughters of Asa, Chief Dr. Eruba Dimgba appreciated God Almighty who made the event a reality, appreciated the MD of NDDC, Dr Samuel Ogbuku for giving an approval for the projects. He added that his responsibility is to serve the people and make the President of the federal Republic of Nigeria, Sen Bola Ahmed Tinubu proud by making sure he did the right thing as a representative