The Abia State Board of Revenue Service, in Umuahia has suspended the services of ZUBIC GLOBAL VENTURES, a revenue agency in the state owned by one Mr. Azubuike Ihuoma Erondu over allegations of high-handedness, flaunting of laid down regulations of the Abia State Internal Revenue Services (ABiRS) as contained in his letter of engagement duly signed by him.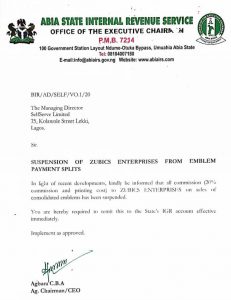 ZUBIC GLOBAL VENTURES was engaged by the state revenue agency on February 23, 2021 as the Sole Emblem Agent in Abia State for the year 2022.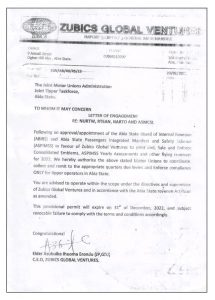 However, trouble started for the man who claims to have Abia in his palms and has tagged himself an " UNTOUCHABLE " after ABiRS thorough appraisal of quarterly performance of Zubics Global Ventures, revealed their displeasure as contained in the documents handed to Journalists in Umuahia, Abia state.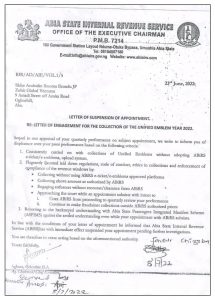 When our reporter sought clarification as to the cause of the insults and allegations on Social Media between Mac Atasie, and Elder Azubuike Ihuoma Erondu JP, the revenue agency staff that spoke to www.newsmirrorng.com on the condition of anonymity said it was wrong for Chief Erondu to pick on Mac Atasie and Mr. Celestine Boyle Agabara on individual capacity as he was not directly engaged by them, rather the agency of Government with instrumentalities of the law.
Documents made available to www.newsmirrorng.com showed that Zubics Global Ventures was in February, 23rd, 2021, given a letter of Engagement by the Abia State Board of Internal Revenue Services (ABiRS), to print, sale and enforce Consolidated Emblems, ASPIMSS yearly assessments and other flying revenues for NURTW, RTEAN, NARTO AND ASMCSL
Further Investigations by www.newsmirrorng.com revealed that Zubics Global Ventures, owned by Elder Azubuike Ihuoma Erondu, has consistently carried on with the collections of Unified Emblems without adopting ABiRS e-ticket/e-emblems, upload system as stipulated in his terms of engagement, which were duly signed by him.
And instead of abiding strictly by the terms of the agreement, has proven that, as far as he is concerned, he is the law and the state.
Investigations at the Abia Revenue Agency proves ZUBIC GLOBAL VENTURES has continually violated all the e-emblems approved platforms, collected above amount approved by ABiRS, engaged enforcers without recourse and permission of ABiRS just as he has approached the court while an appointment subsists with intent to force the ABiRS from proceeding to quarterly review of performance as is the norm.
As if the above is not enough, he has continued to make fraudulent collections outside ABiRS authorized prices, an act the agency said has portrayed him as a dubious agent who only cares about his own part of the business than how to shore up the revenue base of ABiRS and that of Abia State Government to help the citizenry.
ABiRS, has consistently insisted that Zubics Global Ventures reverted to the hackneyed understanding with Abia State Passengers Integrated Manifest Scheme, ASPIMS against the settled understanding even while his appointment with ABiRS subsists.
Some documents stumbled upon by www.newsmirrorng.com indicated that Zubics Global Ventures during his helmsman ship, transport (flying revenue), generated less than N100m a year while the e-ticket system instituted by the Chairman Board of Internal Revenu and Mac Atasie, in 2021, generated 1. 1bn, just as the document, contended that the revelation shows that Zubics Global Ventures, was siphoning the huge revenue generated.
For instance, the same revenue head that crossed N1. 1 billion last year and is expected to improve far beyond N1. 5 billion in 2022. Our investigations reveals that as at July 2022, ZUBIC GLOBAL VENTURES has only made a payment of N11 Million naira to the revenue agency from the time of his engagement to July 2022? The big question then is; where is the money going to?
According to ABiRS, Elder Azubuike Ihuoma Erondu's actions, is an aberration and goes against the Joint Tax Board (JTB) guidelines and World bank standards, the Abia State Tax (Codification and Consolidation) Law, 2020 which was signed into law on the 26th day of August, 2020 by the Governor of Abia State, Okezie Victor Ikpeazu Ph.D.
A Director in the Ministry told www.newsmirrorng.com that Azubuike Erondu's tantrums on Social Media against Mac Atasie and Chief Celestine Boyle Agabara is a calculated attempt diversion to deceive gullible Abians, while the state revenue bleeds, that play politics with everything but insist that since the revenue agencies had given him enough time to change and he didn't, ZUBIC GLOBAL VENTURES has been sacked and another revenue agent engaged to follow the laid down rules of the agency.