The federal ministry of agriculture and rural development has provided a refrigerated delivery van for Abia Butchers Association to ensure the preservation and hygiene of the meat.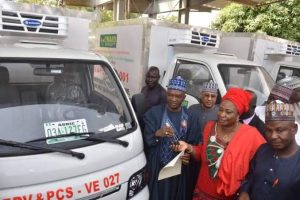 Abia state commissioner for agriculture, Monica Ironkwe, announced this, at her median interactive session with staff of the ministry in Umuahia, the state capital.
She said the ministry had taken delivery of the van on behalf of the association and expressed the appreciation of the state to the federal government for the kind gesture.
She also said In view of the ongoing reorganisation of the state by the present administration, the moribund fishery and poultry units of the ministry would soon be revived.
The commissioner advised the management and staff of the ministry to show commitment to dedication and loyalty to their duties in line with the tenets of the civil service.
Ironkwe condemned the lackadaisical attitude of some civil servants to their duties, warning that under her watch, the ministry would not tolerate lateness, truancy, and absenteeism.
Responding, the chairman of the staff association of the ministry, Dominic Onuoha congratulated her for the appointment and assured her of their cooperation.
Furthermore, he pointed out that a good and conducive working environment, staff welfare, and job satisfaction are critical to productivity.