In a sober and tearful ceremony, the late 23-year-old Lady Police Constable, Miss. Mbanengen Ankyôv, who fell victim to the recent Oturkpo robbery attack, was laid to rest on the 27th of October, 2023. The heart-wrenching event took place in her hometown, Tse-ankyôv, situated behind NNPC Depot Mbaaku, within the Gwer Local Government Area of Benue State.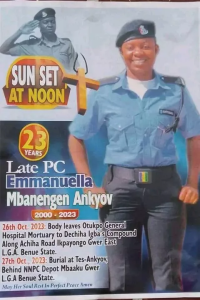 Miss. Ankyôv was remembered as a dedicated and valiant police officer who had lost her life while on duty, bravely confronting the assailants during the tragic robbery incident.
Family members, friends, colleagues, and well-wishers gathered to pay their final respects to the fallen officer. The atmosphere was heavy with grief, as tears and wails filled the air during the emotional send-off.
The tragic loss of Miss. Mbanengen Ankyôv serves as a stark reminder of the risks and sacrifices that law enforcement officers make in the line of duty to protect their communities. Her memory will undoubtedly live on in the hearts of those who knew her, and her service will be forever honored