The Executive Governor of Ebonyi State, Rt. Hon. Francis Nwifuru, has announced an increase in the salaries of civil servants in the state by N10,000.
Newsmirrong.com reports that the announcement was made in a statement signed by the governor and posted on his verified Twitter handle.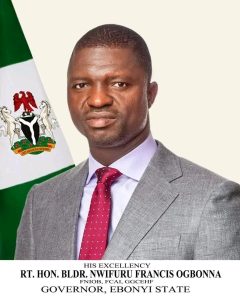 Nwifuru said that the increase was approved by the State Executive Council (EXCO) at its meeting on July 13, 2023.
He said that the increase was in line with his administration's commitment to improving the welfare of civil servants.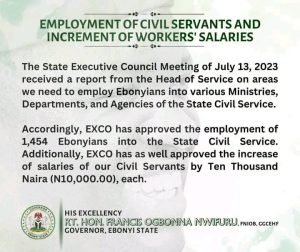 Nwifuru also announced that EXCO had approved the employment of 1,454 new civil servants into the state's civil service.
The statement reads:
EMPLOYMENT OF CIVIL SERVANTS AND INCREMENT OF WORKERS' SALARIES
The State Executive Council Meeting of July 13, 2023 received a report from the Head of Service on areas we need to employ Ebonyians into various Ministries, Departments, and Agencies of the State Civil Service
Accordingly, EXCO has approved the employment of 1,454 Ebonyians into the State Civil Service. Additionally, EXCO has as well approved the increase of salaries of our Civil Servants by Ten Thousand Naira (N10,000.00), each."