It is no longer news that Chief Okechukwu Ambrose Ahiwe is now the official Abia State Governorship Candidate of PDP in the March 11th gubernatorial election.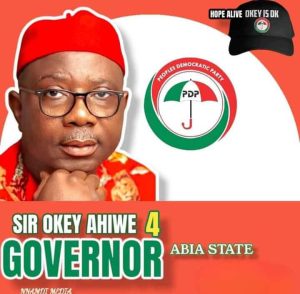 Chief Ahiwe, who is a prominent son of Umuire village, Eziama Autonomous community of Isiala Ngwa North, had his Primary and Secondary School education in Ntigha, Isiala Ngwa North, and Ahiara Mbaise, respectively.
He had his tertiary education at the University of Lagos, where he graduated with a B.sc in Political Science, and M.sc in the same discipline at Abia State University, Uturu.
Chief Okechukwu Ahiwe has participated actively in several administrative and executive courses, nationally and internationally.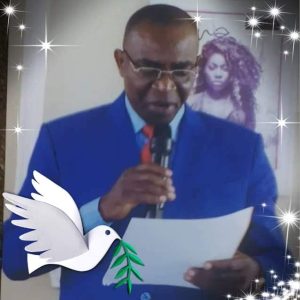 He is the CEO of Ambrokah Investment Limited and Powertrim Nigeria Limited, which are front liners in the maritime sub-sector of the Oil and gas industry.
Politically, Chief Ahiwe commenced this career by aspiring for the Executive Chairmanship of Isiala Ngwa North in 1998 via All People's Party, APP, which didn't materialize.
Chief Ahiwe likewise in 2003 ran for the membership of The House of Representatives for Isiala Ngwa North and South Federal Constituency under ANPP and that too didn't pull through.
He took all of the above with a calm spirit and remained undeterred.
In 2019, as the Coordinator of Isiala Ngwa North Campaign Council, he exhibited strong character and capacity and doggedly delivered all PDP candidates in a landslide victory, working in synergy with other stakeholders.
In 2022, he had his mind fixed on running for the 2023 Governorship election and eventually decided to sacrifice that for the benefit of Prof Uche Ikonne, who was from his LGA and an elderly brother.
Chief Okechukwu Ahiwe subsequently opted and bought forms to run for the House of Representatives election, but again, he sacrificed that for Prof ACB Agbazuere, for the benefit of our sister LGA of Isiala Ngwa South, in the true spirit of justice, equity, and accommodation.
And that was also occasioned by the fact that the Governorship ticket had been micro-zoned to his LGA of Isiala Ngwa North, and for him and the good people of Isiala Ngwa North, that was big enough.
He did all that without grudges, bitterness and acrimony, but in good faith, devoid of desperation and destructive propaganda.
Today, and without outsmarting anybody, God has finally rewarded him with the gubernatorial ticket of the dominant and ever-conquering Party in Abia State, PDP.
This has aptly indoctrinated us that patience and perseverance are desirable virtues in life.
Oftentimes, we attempt to acquire power at all costs by arm-twisting and lying against our perceived opponents without appreciating the truism that power belongs to God and is also most transient.
Chief Okechukwu Ahiwe was the founding National President of the prestigious Ngwa Patriots Forum and served meritoriously and competently for two terms.
His last political position was Chief Of Staff in the Office of the Governor.
Chief Ahiwe is humane, generous, accommodating, accessible, responsible, empathetic, a peacemaker, respectable, responsive, and a renowned manager of men and resources.
He is unmistakably humble but very firm in taking far-reaching decisions.
Kikas, as fondly known by friends and associates hates seeing those around him in pain and tears.
A man who can give his all to help put smiles on people's faces. Chief Okechukwu Ahiwe is married to a very beautiful, loving, and caring wife with lovely Children.
Without overstatement or exaggeration, OKEY IS VERY OKAY. He is undoubtedly OKECHUKWU NYERE NDI ABIA at this critical time.
We, therefore, use this auspicious moment to thank all Abians and even non-Abians, who contributed in one way or another for the successful emergence of Chief Okechukwu Ahiwe, especially the Executive Governor of the State, Dr. Okezie Ikpeazu, the State Party Chairman, Rt Hon Allwell Asiforo Okere, Ph.D., and members of his State Working Committee, among numerous others.
We assure all and sundry that Abia State will positively move to the next appreciable level under Chief Okechukwu Ahiwe's watch. And this is a promise!
Goc Nnaji, I write from Umuezegu Nsulu.