Permit me to start this piece by making an important clarification. Some of you assume that my determination to highlight the shortcomings of Alex Otti's administration is an indication of having personal issues with him. Kindly note that I do not have any personal issue with him and I am very sure that Pre-Governorship Otti would be proud of me. Moreover, if I stop reviewing his administration now those being paid stipends to attack me will lose their jobs and I don't want that to happen.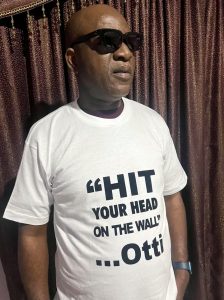 In all, I will continue to demand transparency and accountability as promised by Governor Otti. Hopefully, my advocacy and sacrifices will lead to improvements and, of course, give the government opportunities to consider another angle to the decisions they make. But if they don't like it, I will still continue doing what I'm doing for the sake of Abia and posterity.
The caption of this intervention reminds me of a quote from a James Hadley Chase novel I read many years ago: "It's when a guy gets full of confidence he's wide open for a sucker punch. I've seen it again and again in my racket. Some guy commits murder. He takes a lot of trouble and thought to cover it up, fakes himself an alibi or maybe makes it look like it's been done by someone else. Then he imagines he's safe, but he isn't. And, wham, he's flat on his back…"
I don't want any sucker punch to hit my Governor so I will advise him to apologise and retract his statement that the people who elected him should hit their head on the wall. Aside from the fact that the statement reveals deep-seated arrogance and resentment, such a vile statement directed at any segment of the populace must never be found coming from a leader, no matter the circumstances; it negates everything we expect in a democracy and smacks of gross indecency.
That people disagree with your position on anything does not mean they are beneath you and only deserve broken heads, especially when you are speaking to your employers, the people. Such vitriol is the product of a mind formed in totalitarianism and manifested in fascism.
This mindset of "I don't care" does not have any place in leadership just like abusing your predecessors and attempting to ridicule stakeholders of a different leaning in your state as people you removed "feeding bottle" from their mouths.
One of the reasons Nigerian youths love Mr Peter Obi is his humility and I wonder how he is feeling after watching this video wherein a Governor he principally eased into office is asking citizens to hit their heads against the wall if they don't agree with him.
Let's examine the issues Otti raised in this circulating video.
1. He wants billionaires as "Mayors" of our LGAs even when he must already have been advised by his Attorney General that it is constitutionally impossible. Yet, he says if we don't like it we should hit our heads against the wall.
Not so strangely too, the Governor suggested that being a billionaires approximates to not being corrupt and having more integrity than others. Donald Trump must be proud of Mazi Otti after watching this his video.
Of course, among the names being peddled as potential "Mayor" of one of our LGAs is a man I know personally to be a great businessman whose word is his bond. But suggesting that among young Abians we cannot find men and women with integrity and leadership capacity for such a role is a huge slap on Abia youths and indeed the youth dominated Obidient movement that worked tirelessly to birth the Otti administration in the State. Many of them are still at social media today defending this public humiliation and vote of no confidence passed on them by their man.
I sympathize with Abia Youths but I must admit that they were warned by a first class criminologist, Elder Okey Amuta that the man they were supporting to be Governor in March 2023 was "pompous and arrogant". According to him, "Alex (Otti) is not one man you can work with and express yourself. Alex is a dictator…if you are not rich you are not Alex's friend".
That video from Aba confirms elitism and pomposity, without any shred of doubt.
Those young people who ignored the above warning by this cerebral Abian can watch the video again in the hope that they learn how to assess people for political leadership.
As I will always say, political leadership is about the people and any man whose character will not help him love the good and help them to be better, support the bad to be good and help the ugly to see the beauty in them has no business leading a people even if he is successful in making good or bad billions in any currency.
2. Governor Otti wants a non-indigene billionaire as "Mayor of Aba" but unfortunately he miscommunicated that to mean that Aba has no indigenous billionaires. He also failed to define the operational coverage of the putative appointee because Aba City is within the coverage of 5 LGAs: Aba North, Aba South, Obingwa, Osisioma and Ugwunagbo.
Is the Governor saying that this his billionaire Mayor will be in charge of all 5 LGAs? And where is he deriving the constitutional authority to merge the LGAs under a mayoralty from?
There is nothing strange or new about having a non indigene as TC Chairman of either Aba North or South LGA. Even during the recent Okezie Ikpeazu administration, we had an Anambra man, Dr N C Okoli as 3-time TC Chairman of Aba South LGA. The same man served under Senator TA Orji's administration.
There are many other non indigenes that have occupied similar positions in Aba North or South LGA but then the glorification of affluence, no matter how gotten, is the issue with the Otti intervention.
Apparently, the Governor prefers billionaires to hardworking Nigerian youths but he shouldn't rub that in the way he did.
There is also no community without "billionaires", including indigenous people of Aba na Ohazu, but I can testify that there are many young Abians who are very hard working, without traces of corruption, and with matching administrative acumen to even lead Abia State or Nigeria. Without being within tbe preferred age bracket of Otti's billionaire friends some of them are already excelling in ICT, banking, telecoms, diplomacy and international administration.
If Otti wants a list of such young Abians excelling in diverse endeavours, he should say so and I will offer him 17 of his own supporters that will not "share allocation" but will add tremendous value to local government administration in Abia State. The 3rd tier of Government should actually be exclusively reserved for young leaders.
Mr Governor, please do not ask hardworking Abia youths to hit their head against the wall. It is very wrong sir. Calling your predecessors names like criminals, feeding bottle suckers etc is one thing but asking Abia youths to hit their head against the wall is a new low in Abia and Nigeria.
If your point is that being a billionaire is genetically linked to integrity and acumen in leadership may be you should ask your billionaire friends to nominate their children to occupy the positions.
3. I am proud of the comment made by the Governor that he has only one wife and 3 children. That should serve notice to those women who might want to make contrary claims in future from Port Harcourt, Abuja, Umuahia, Lagos etc to keep off. This video precludes latter day reapers from where they didn't sow.
Personally, I think Mazi Otti married a good and supportive wife that every man should be proud of so her husband boasting about her in public is something women activists should applaud and celebrate.
I also suspect his children are also well raised and will in future make us proud as TC Chairmen or in other public leadership positions, with or without being billionaires. It is biblical that an elder serving the people must be husband of one wife and our Governor is perfectly right to highlight that credential of his. "If you are unfortunate to have three wives…" kuo ishi na wall.
4. Deployment of Transition Council Chairmen instead of Elected Council Executives
I have no moral right to criticize Governor Otti for choosing to deploy Transition Council Chairmen to manage the local governments because I served under an administration that had both Transition and Elected executives and used that 3rd tier of government to introduce young people to public service and leadership.
Some of those young people went ahead to become elected House of Representatives members and leaders in the state executive council. Of course, under the watch of Governor Ikpeazu the administration conducted two local government elections in addition to using transition executives.
The only person opposing the decision of Governor Alex Otti to announce his billionaires as Transition Council Chairmen appears to be a certain Mr Alex Otti who wrote the following:
"The Alex Otti team received with disappointment, the news of the appointment of 17 LGA Transition Committee Chairmen and their Deputies by the executive governor of Abia state….
"We are disappointed because we are very much aware that the Federal Government, in a bid to halt the siphoning of LGA allocations by governors who hitherto exploited the loophole provided by the State-Local Government Joint Account, took measures aimed at ensuring that allocations for LGAs go straight to their accounts, with a threat to punish those who fail to utilize such funds prudently for the development of their councils.
"The Federal Government also made it clear that it would not tolerate the appointment of TC Chairmen to manage the affairs of various LGAs as that would give state governors the opportunity to manipulate the LGAs, and possibly mismanage the LGA funds.
"In the light of the aforementioned developments, we are taken aback by Governor…decision to resort to this retrogressive political action…
"Finally, we call on the federal government and the Independent National Electoral Commission (INEC) to expedite action and ensure that LGA election is held in Abia urgently in the interest of the suffering citizens" -Alex Otti, 18/06/2019
People should help me warn Mr Alex Otti to leave our Governor Alex Otti alone to concentrate and stop criticizing him for appointing TC executives instead of conducting LGA polls under iNEC supervision.
If he does not like the appointment of TC Executives he should hit his head against the wall of New Abia building. Our Governor can never be wrong and should not be reminded of the past because all things have become new. The promises made during campaigns and public statements before election fall within "iri voters mugu" only.
5. In that revealing video, Governor Otti announced gleefully, with accompanying cheers, that he is not "taking salary" and it took the Speaker of Abia State House of Assembly, Rt Hon Emmanuel Ihuoma Emeruwa, to remind him of that fact.
Bravo my Governor!!!
You forget to take salary and the Leader of the legislative branch of government you installed singlehandedly reminded you about it. It was not your hardworking Chief of Staff, Accountant General or Commisioner for Finance that reminded you that your name was not pay-rolled for salary in four months.
Obviously our House of Assembly Speaker, in the absence of laws to make for good governance, has been busy paying salaries to public officials or must have been scrutinizing your salary account and our payroll monthly to know what goes in and out.
May be it is time to also consider removing the Speaker sir for doing a job that nobody sent him to do, or not within the purview of his responsibilities.
But before considering the removal of such a nice and innocent Speaker, permit me to ask if the Speaker is also reminding you that you have been taking hundreds of millions of naira monthly as security votes even after you vowed not to do so if elected into office?
Is the Speaker aware that you are also hiring private jets and helicopters to move from point to point everyday at the expense of tax payers? Has he seen your newly re-acquired helicopter that is giving Nvosi people sleepless night and day?
Does this Mr Speaker even know that it is the state government and tax payers that are rightly feeding and clothing you? If he knows all that why bother about a mere salary?
I know my Governor is a man with human kindness, hence he won't be looking for salary of less than N2m every month after taking hundreds of millions as security vote. Like he said, he does not need the salary and any Speaker that ever reminds Mr Governor of his breaching his electoral promise must be reminded that the Governor recently asked journalists in Abia: "security vote m ogbasara unu?"
6. According to Governor Otti, when he took over, he paid one month and another one month of some salary backlog from the allocation of one month. Unfortunately, Mr Governor forgot to mention how many workers he paid against how many workers were owed.
He didn't tell the clapping audience that he didn't pay more than 15,000 workers and has already sacked 10,000 of them while the remaining 5,000 are yet to receive 'shishi' since he became Governor.
If those working for our Governor disputes this then let them simply produce the payrolls used in December, January, February, March and April 2023 to pay workers, let's compare to what was paid in June, July, August, September and October. Yoo cannot lay off workers without paying them and claim that you paid additional months.
7. Lastly, the Governor said he has paid Julius Berger and "all the people". Please sir who are "all the people" under reference? Are they workers, contractors or election financiers? Thank you for at least confirming that you have fully paid Julius Berger more than N30bn for a 6km road. Anybody who is angry should hit their head against the wall.
Finally, I am wondering if I have made public the fact that Mazi Alex Otti is my opposition leadership role model? He performed very well as opposition leader and I am copying everything he did even without his approval. I am set to review local government administration and finance under his watch. As usual, it will be based on what he promised versus what it is today. Nothing more!!!
Shout out to the young Abian who made and gave me this beautiful T-shirt. My prayer is that you will never hit your head against any wall.
Nwandugbom JOK