The Chairman of Ariaria International Market, Aba, Hon Michael Chijioke Amaku, has commended the initiative of Abia state Governor, Okezie Ikpeazu on the remodelling of the Ariaria International Market Aba, Abia state to meet modern standards.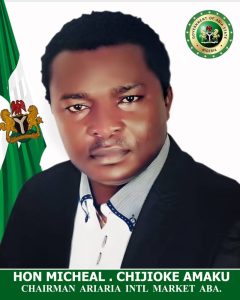 Mr. Amaku expressed his appreciation during the recent visit of the Honourable Commissioner for Trade and Investment, Chief John Okiyi Kalu to the site.
He said the design of the market with modern facilities has showed that Abia state Government is committed to the welfare of traders and the people of Abia State in general and urged the in – coming administration to continue from where the last administration will stop in the spirit of continuity in governance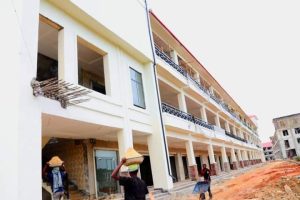 Hon. Amaku praised the inclusive nature of the project, which considered the needs of the elderly and people with disabilities, noting that the emerging market when completed, will have uninterrupted power supply, as well as many banks, police stations, modern hospital, fire service stations and other necessary facilities that will make life easier for the traders and their customers. The levator will make the movement of goods, both upward and downward movements much easier and seamless for both traders and their customers
it
Earlier, the Commissioner for Trade and investment Chief John Okiyi kalu said he was impressed with the progress of the project, which he described as the first of its kind and a shift from the status quo.
The project includes automated doors in 480 shops, elevators for the elderly and people with disabilities, and good road infrastructure, among others.
Chief John Okiyi kalu thanked Gov. Okezie Victor Ikpeazu for his visionary leadership and his commitment to trade and commerce in the state and expressed optimism that the project would be a template for future administrations to follow and duplicate across the entire Ariaria International Market.