Worshipers at Apostolic Christian Church Mission(ACCM) 34 Omuma Road Aba Abia State are calling on the Bishop of the Church,Bishop John Ukaegbu Esinna to Suspend and excommunicate the Resident Pastor of the Church Pst Blessed C Green over allegations of "Homosexuality" with a Student Pastor .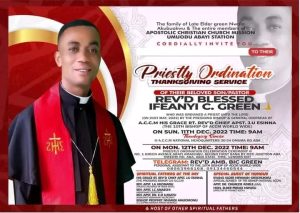 The Pastor was accused by a Student Pastor Pst Uzochi Nwaoguigwe currently studying at Apostolic Christian Church Mission Theological Seminary Aba of having S@x with him through the anus.
Effort to get the reaction of the Bishop proved abortive as he did not attend to calls made on his phone nor returned sms sent to him.
Pst Green who was a Former Personal assistant to the Bishop said he was busy when contacted by our correspondent for his own side of the story .