The CEO of Ngwafactsnews Media Reports has congratulated the PDP Governorship Candidate , Chief Okey Ahiwe on his victory at the PDP primaries held on Saturday 4th February, 2023 at the Umuahia Township stadium.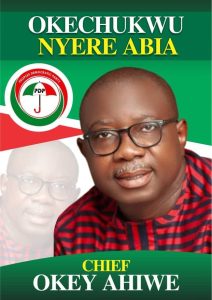 In a press release, Hon Achilihu described the choice of Chief Okey Ahiwe as major decisions made by Governor Okezie Ikpeazu and the leadership of the PDP in Abia State which is capable of changing the entire political equation in Abia State in the coming Elections.
Hon Achilihu Destiny who is a major shareholder in Abia State YPP, used the medium to thank Governor Okezie Ikpeazu for finding an Ntigha Son worthy of succeeding him, and call on all good spirited Ngwa sons and Daughters and indeed all Abians to Jettsson party politics and see Chief Okey Ahiwe's candidacy as divine Providence.
He therefore endorse Chief Okey Ahiwe and ask all his supporters to vote for the PDP Candidate.
""Chief Okey Ahiwe is a good man, a unifier, a rallying points for every emerging Leader in Ngwaland and Abia State.
Chief Okey Ahiwe is a very exposed Businessman with wider Contacts across boarders, one who is not materialistic but humble and ACCESSIBLE.
We cannot afford to play politics with this golden opportunity offered to us by God
I therefore, call on every good spirited Ngwa sons and Daughters and indeed all Abians to Vote for the PDP and vote for Chief Okey Ahiwe.
On behalf of my family and Ngwafactsnews Media Reports, I therefore congratulate Chief Okey Ahiwe and endorse him for Governorship.
God bless Abia State.
Hon Achilihu Destiny C
CEO, Ngwafactsnews Media Reports Ltd