Reports indicate that Yevgeny Prigozhin, the founder of the Wagner Group, a Russian mercenary group, has been killed in a plane crash.
Preliminary reports indicate that there were seven individuals on board, all of whom were killed. He was in Russia early this week to rally the recruitment of mercenaries.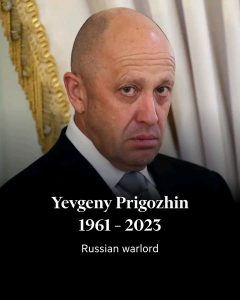 "A plane said to be carrying notorious warlord Yevgeny Prigozhin, whose Wagner group launched a failed coup against president Vladimir Putin in June, has crashed on a flight from Moscow to St Petersburg, according to Russian officials.
All 10 people on the plane, including three crew members, died in the crash, Russia's emergency ministry said, according to state newswire RIA Novosti."