Tension has gripped the Nnamdi Azikiwe University, Awka, Anambra state, as a panel recommended the dismissal, suspension, and expulsion of more than 14 individuals, including both staff and students, for various offences.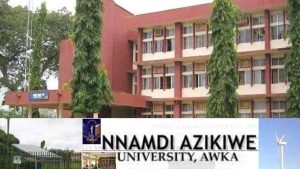 The implicated individuals comprise a Priest and three lecturers, with additional students facing expulsion for offences like aiding and abetting.
This information was disclosed in an official release signed by Dr Emmanuel Ojukwu, the special adviser to the Vice Chancellor for Public Relations and Special Duties, and provided to journalists in Awka on Sunday, September 24.
Recall that the Vice Chancellor, Prof. Charles Esimone, has been grappling with a major challenge related to sexual harassment, extortion, and various transgressions within the University.
Three lecturers were accused of extorting funds from students who successfully completed their courses, and employing fellow students to carry out these malevolent acts.
"The Nnamdi Azikiwe University, Awka has taken disciplinary actions against the following staff and students for various offences.
"Principal Executive Officer 11, abandoned his duty post for a considerable length of time. As a result, he was indicted for gross misconduct and suspended from duty for six months to serve as a deterrent to other officers.
"Senior Executive Officer was indicted for fraudulent financial transaction concerning the University. She was suspended for six months on half salary" the Varsity said
The Reverend priest and another were both accused of aiding and abetting examination misconduct after collecting gratification from students.
One of the lecturers was indicted for clearing and graduating a student, who had 12 outstanding courses.
The panel recommended that he should be dismissed from the services of the University, while the result should be withdrawn and further credentials such as Certificates and Transcripts should not be issued.