Presidential Candidate of the Peoples Democratic Party (PDP) in the February 25, 2023 election, Alhaji Atiku Abubakar, this Monday morning, October 30, 2023, accused the ruling All Progressives Congress (APC) and the Independent National Electoral Commission (INEC) of perpetrating "mandate banditry" during the disputed ballot.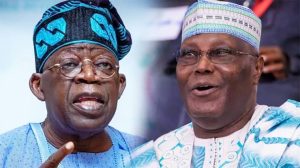 He also lambasted the Supreme Court, which last Wednesday dismissed his appeal and that of Mr. Peter Obi of the Labour Party (LP), of rubber-stamping the alleged "mandate banditry".
The former Vice President in a press conference in Abuja, insisted that during the litigation process, he and PDP "showed irrefutable evidence" that APC's Bola Ahmed Tinubu, who was declared President by INEC and affirmed by the courts, "was not qualified to contest the presidential election because he forged his academic records" and was guilty of identity theft.
He also insisted that they provided enough proof that the election was marred by violence and irregularities and that "INEC violated its own laws in order to declare Tinubu President".
He vowed that despite the turn of events, "I am not going to go away", adding: "As long as I breathe I will continue to struggle with other Nigerians to deepen democracy and the rule of law. I will continue to work for the kind of political and economic restructuring that the country needs to progress."
Atiku made a number of proposals to improve on Nigeria's electoral system. They include,
Amending the Constitution to prevent any court or tribunal "from hiding behind technicality to okay electoral heist"; compulsory electronic voting and collation of results; and conclusion of all litigation arising from election before the inauguration of the winner.
He equally proposed a rotational six-year single Presidential term to prevent a situation where two regions gang up to rotate the Presidency among themselves.