As part of activities leading to the end of the administration of Governor Okezie Ikpeazu, the following events are scheduled to hold as follows –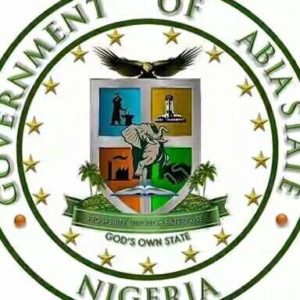 SATURDAY, 27TH MAY, 2023
1. Commissioning of the Multi Specialist Hospital Complex Aba by His Excellency, Engr Seyi Makinde, Governor of Oyo State.
2. Commissioning of the Enyimba Automated Garment Factory by His Excellency, Rt Hon. Ifeanyi Ugwuanyi, Governor of Enugu State.
3. Commissioning of the New Government House Complex Umuahia by His Excellency, Dr. Kayode Fayemi, former Governor of Ekiti State and former Chairman of the Nigerian Governors Forum.
Events for the day will commence at 12 noon.
SUNDAY, 28TH MAY, 2023
1.Church Service at the Chapel of the new Government House, Umuahia by 8am.
2. Interaction between the Governor and select journalists at the new Government House Umuahia.
3. Valedictory Meeting of the State Executive Council at the new Government House Umuahia.
4. Commissioning of internal roads at the Abia State University, Umuahia Campus.
5. Commissioning of Umuihe Health Center, Isiala Ngwa South LGA
6. Commissioning of A Line, Ariaria International Market by Governor Okezie Ikpeazu.
7. Commissioning of Faulks Road, Aba by Governor Okezie Ikpeazu.
MONDAY, 29TH MAY, 2023
7am – Farewell Broadcast by Governor Okezie Ikpeazu.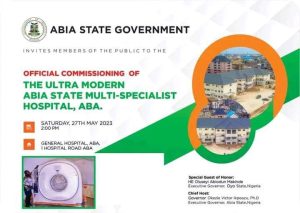 Be guided, please.
Sir Onyebuchi Ememanka
Chief Press Secretary to the Governor.
26th May, 2023.