A 40-year-old Nigerian, Alex Ogunshakin, is now awaiting trial in the United States for allegedly swindling 70 American businesses to the tune of $6 million.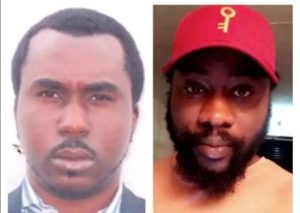 Ogunshakin was recently arrested in Nigeria and extradited to the US for trial.
He had been at the top of the Federal Bureau of Investigations (FBI) Cyber's Most Wanted List since 2019.
The accused, according to the charges against him, defrauded more than 70 businesses in Nebraska and across the U.S. of over $6 million.
His mode of operation was a business email compromise (BEC) scheme.
He and his co-conspirators were said to have, between 2016 and 2017, posed as the chief executive officer, president, owner, or other executives of the targeted companies.
Using spoofed email accounts, they directed business employees to complete wire transfers.
Two unnamed companies in Nebraska lost more than $530,000 in the scam, The London Mail reports.
Ogunshakin provided his co-conspirators, including Richard Uzuh, who led the BEC scheme, with bank accounts that were used to receive fraudulent wire transfers.
He also assisted in sending spoofed emails to businesses used to solicit fraudulent wire transfers, according to the indictment.
Some of Ogunshakin's co-conspirators have also been arrested.
One of them is Adewale Aniyeloye, who sent the spoofed e-mails to the target business.
He was sentenced in 2019 to 96 months' imprisonment and ordered to pay $1,570,938.05 in restitution.
Another is Pelumi Fawehinimi, a bank account facilitator, who was also jailed in 2019 for 72 months and ordered to pay $1,014,159.60 in restitution.
There is also Onome Ijomone, a romance scammer, sentenced in January 2020 to 60 months' imprisonment and ordered to pay $508,934.40 in restitution after his successful extradition from Poland.