Operatives of the Nigeria Police Force Oji-River Division in Enugu State have arrested a 27-year-old man identified as Gabriel Gibson for raping his friend's wife.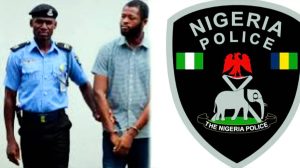 The suspect who is also known as Ogidi was alleged to have committed the act in his friend's house on August 18 by 5am.
He was arrested a few days later by Police operatives.
The Spokesman of the state Police Command, Daniel Ndukwe in a statement said that further investigation into the matter is ongoing.
"The suspect was arrested on 21/08/2023 at about 10am, by Police Operatives serving in Oji-River Police Division.
"His arrest was due to the receipt of a report alleging that suspect who is a friend of her husband, on 18/08/2023 at about 5am, came to their house in the absence of her husband and forcefully had carnal knowledge of her.
"The case is undergoing further investigation," the statement reads.