26-year-old Franklin Akinyosuyi, who was arrested with human parts in Ondo town, headquarters of Ondo West local government area of Ondo State, has said he bathed with a human head for a month to boost patronage in his business.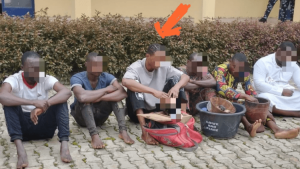 Akinyosuyi, a suspected fraudster and ritualist, was arrested by operatives of the anti-crime section attached to Funmbi-Fagun police Station, in Ondo town.
The suspect said he decided to look for a ritual assistant due to untold hardship and low patronage which threatened his business.
He stated this while being paraded alongside five other suspects at the command headquarters in Akure, the Ondo State capital. He further disclosed that the human head was discovered in his rented apartment located in the Elewuro area of the community.
Akinyosuyi who exonerated his landlord, confirmed the ownership of all the items found in his possession.
He added that he brought all the items from his herbalist who resides in Ikirun, Ifelodun local government area of Osun State to boost his photography and boutique business.
His words: "I am a photographer and I own a boutique as well. It was last year that my uncle took me to a herbalist. I explained to him that my business wasn't moving well, so he asked me to pay N200,000 to make a concoction for me which I paid within three weeks.
"After he was done, he called me to come pick it and that was last year November. He directed that I should be bathing with the human head every Thursday at exactly 1 a.m. I used it for a month but didn't see any difference in my business. So, I had to call the herbalist and tell him to refund my money.
"I also asked him to come and pick the human head as well but he refused to come and pick it up. He started refunding my money because he already sent me N20,000. So, on that faithful day, I decided to go and throw it away, so I dropped it in my backyard. Unfortunately, I went out and before I could return, my landlord's children saw it, informed their father, and ultimately called the police.
"After we were arrested, the herbalist claimed that he paid someone to get the human head", the suspect said.
Meanwhile, the Police Public Relations Officer (PPRO), Funmilayo Odunlami-Omisanya, said: "On the 6th of August, 2023, a case of Unlawful Possession of Human head was reported at Fagun Division against Franklin Akinyosoye, 26, who claimed to be a photographer and also own a boutique in Ondo town.
"The suspect was challenged by his landlord for keeping a bag in a corner of the compound and the landlord was suspicious and asked the young man to open the bag. When he did, a human skull was found in the bag. After he was arrested, he claimed it was given to him by a Native Doctor in Osun State.
"Further interrogation and investigation led to the arrest of one Oyegoke Dare an evangelist, who gave the skull and other fetish materials to the suspect, one Oyelade Sarafa an herbalist who also confessed to have helped in procuring the skull from one Asekun (a vigilante) in Ikirun was also arrested. Two other suspects mentioned in connection with the case are currently at large".
Odunlami-Omisanya added that the Police also arrested a 47-year-old football coach, Bankole Oginni for allegedly killing his ex-lover with hot water in Akure the state capital.
"On August 6, a young lady reported at 'B' Division Akure, that Bankole Oginni Oluwole, male, 47 years, invited his Sister, Bosede Adejoro, 45 years, to visit him at Danjuma Street Akure in his father's house via a phone call. She did not return home on the said day and her phone was switched off and all efforts to contact her proved abortive.
"So, the next day, the daughter in the company of the deceased sister and the brother in-law traced the house of the suspect to Danjuma, Oke aro and on getting there found the lifeless body of her mother in his room, with her legs tied, patches showing that hot water had been poured on her body and her stomach cut opened with her intestines removed from her stomach.
"During investigation, the suspect claimed the woman slumped immediately she got to the house and he was scared and decided to pour her hot water and tied her leg to enable him dispose her body after removing her intestine".