Mbutu Political Bloc today paid a courtesy visit to the the Deputy Transition Council Chairman of Isiala Ngwa South Prince Paul Okpanku.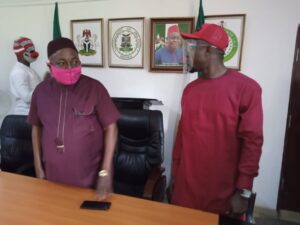 The delegations was led by the President  Mbutu  Political Forum Chief Egwu Onwumelu, Nze Boniface O. Ahuruonye, Hon R.N. Nji, Hon David Johnson , Hon Betty Johnson, Chief Elder B. Ihemanma, Ugoeze Promise Chioma Okpanku, Hon. Popular Ogbonna,.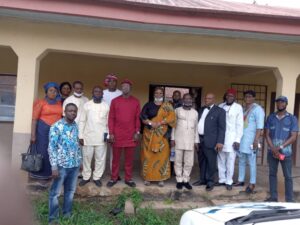 The delegation also paid a familiarity visit and a congratulatory visit to the Transition Council Chairman, Hon. Boniface Nkem Onwubiko. Speaking Hon Egwu Onwumelu congratulated the Transition Council Chairman for his reappointment as the Transition Chairman. The delegation also solicited the support of the Transition Council Chairman for equity power sharing in Isiala Ngwa South which they group opined that Mbutu Political Bloc to be adequately entrenched in Isiala Ngwa South Politics. The also appreciated the transition council chairman for a harmonious and Cordial relationship with the deputy transition chairman.
Responding, the Transition Council Chairman Chief Onwubiko reiterated the commitment of the present Administration towards providing democracy dividends.. He despite of difficult challenges the council administration has recorded so many tremendous achievements. He thanked the delegation for the continued support to the Government of Dr Okezie Ikpeazu PhD.
The highpoint of the visitation was the presentation of souvenirs to Transition Council Chairman and Deputy Transition chairman