According to SportBILD, Napoli's 24-year-old striker, Victor Osimhen, is at the heart of a transfer tug-of-war between European giants Manchester United and Bayern Munich. Following a standout season with the newly crowned Serie A champions, Osimhen's impressive 28-goal haul has attracted the attention of numerous big-name clubs across Europe.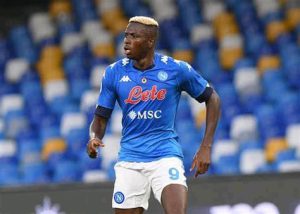 Manchester United's Search for a Top Striker
Manchester United have prioritised the acquisition of an elite-level striker this summer, with Osimhen remaining on their radar since November. However, United's manager, Erik ten Hag, has also identified Tottenham Hotspur and England star Harry Kane as his primary target. Coincidentally, Kane has matched Osimhen's goal tally of 28 this season.
The Race for Osimhen's Signature Intensifies
As expected, Manchester United faces fierce competition from clubs at home and abroad for the Nigerian striker's signature. Paris Saint-Germain and Bayern Munich have recently shown interest in Osimhen.
Despite this, Bayern's CEO, Oliver Kahn, highlighted the 'risk' associated with signing Osimhen for a staggering transfer fee. Recent reports suggest that Napoli is demanding a fee in excess of £120 million.
Speaking to SportBILD, Kahn said, "When it's about such a fee, we have to ask the question: does the player give you a guarantee for this money? That would definitely be a big risk."
Napoli's Stance on Osimhen's Future
Although Napoli has not officially disclosed the acceptable amount they would let Osimhen go for this summer, club president Aurelio De Laurentiis confirmed that he would not entertain any offers for the striker.
De Laurentiis, speaking to Italian channel Rai Sport, asserted, "I will not sell Victor Osimhen this summer – no way."
With Manchester United and Bayern Munich circling, it remains to be seen if the clubs will be willing to meet Napoli's demands, or if they will be forced to turn their attention elsewhere.