RE: SAVE UKWA EAST (NDOKI) FROM SENATOR ADOLPHUS WABARA
This is baseless.
Your Excellency, our Governor, Senator Adolphus Wabara is neither the state PDP party Chairman or neither has he approached him to support his brother's ambition in any way.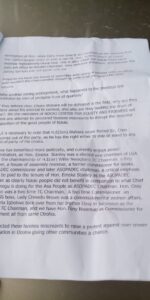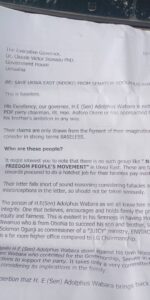 Their claims are only drawn from the figment of their imagination which we consider in strong terms as BASELESS.
Who are these people?
It might interest you to note that there is no such group like " *NDOKI FREEDOM PEOPLE'S MOVEMENT"* in Ukwa East. These are faceless cowards procured to do a hatchet job for their faceless pay masters.
Their letter falls short of sound reasoning considering fallacies and misconceptions in the letter, so should not be taken seriously.
The person of H.E(Sen) Adolphus Wabara as we all know him is a man of high integrity. One that believes, encourages and holds firmly the principles of equity and fairness. This is evident in his firmness in having Hon. Tony Nwamuo who is from Obohia to succeed his son and brother, late Hon. Solomon Ogunji as a Commisioner of a "JUICY" ministry, ENVIRONMENT which is far more higher compared to the office of an LG Chairmanship.
Again H.E Senator Adolphus Wabara stood against his own blood brother, Chief Marc Wabara who contested for the Governorship, Senate in the past elections to support the party. It takes only a very committed person to do that considering its implications in the family.
The assertion that H. E (Sen) Adolphus Wabara brings back his brother during elections to contest is purely.. falsehood.
Hon. Chuks Wabara is a politician who identifies opportunities to embark on his political endeavours, so totally responsible for whatever decision he makes.
Besides,times are gone where power is entrusted in the hands of jobless people, as it has the high tendency of encouraging fraud and underdevelopment in the system.
In their letter, they said they don't care how PDP selects their candidate, so how did they come to fault it? Can you fault what you are not part of?
For the records, Hon.Chuks Wabara is eminently qualified to run for the elections because he is from zone B where Ukwa East is considering to produce a chairman, and he fully understands the issues associated with Ndoki people as a former Deputy Chairman of the Council, a former Senior Special Assistant and Special Assistant respectively to the Governor.
The person of Hon.Chuks fits perfectly for what Ndoki needs presently to salvage it from looming catastrophe of underdevelopment, owing to his level of exposure and doggedness. He is an achiever if you know him.
We want to assure you that PDP and Ukwa East will be intact with Hon. Chuks as Chairman of the council.
H.E (Sen).Adolphus Wabara *NEVER* fielded Chuks Wabara to run for Chairman, rather late Dr Solomon Ogunji who persistently pleaded with H.E(Sen).Adolphus Wabara to support his brother which he didn't agree with initially. It took many others and groups to convince him to key into the project, after some youths approached the likes of the member representing Ukwa East State constituency, Hon. Paul Taribo,late Dr Ogunji Nwabo before his demise and others. These are verifiable facts,Your Excellency.
Sometime back in the years, the likes of late Chief E.C Adiele, late Chief Lambert Mmecha, late Sir Willie Wabara, late Dr Dick Emuchay, late Obioma Nnadede, late Chief Godwin Ejiofor, Traditional Rulers and Religious fathers all came together and instituted a zoning arrangement. In that meeting it was agreed that the house of assembly and chairmanship seats should rotate between the zones. But unfortunately this arrangement was distorted by the emergence of Hon. Glory Kanu from zone B as Chairman on the premise that the rightful people which is zone A had Rt. Hon. Asiforo Okere as House member representing Ukwa East. This is after Chief Joe Adiele from same zone left office as elected Chairman. Very deficient argument, and defeats the zoning formula you will agree with me.
Presently we have the house of assembly seat doing a second term in office. Why wouldn't the chairmanship remain in zone A till the assembly seat returns.
Why another zoning arrangement, what happened to the previous one instituted by men of pedigree from all quarters?
If they believe Hon. Chuks Wabara will be defeated in the field, why are they jittery about his interest to contest, and why are they beating the drum of war?. We the members of NDOKI CENTER FOR EQUITY AND FAIRNESS will resist any attempt by procured faceless miscreants to disrupt the peaceful disposition of the good people of Ndoki.
Sir,it is necessary to note that H.E(Sen).Wabara never forced Sir, Chris Nkwonta out of the party, as he has the right either to stay or leave to any political party of his choice.
Obohia has benefitted more politically, and currently enjoys power concentration, as Hon. Emeka Stanley was a elected vice chairman of LGA under the chairmanship of H.E(sir) Willie Nwagbara,TC Chairman, a Rep member, a house of assembly member, a former Commisioner for Works, ASOPADEC Commisioner and later ASOPADEC hairman. A critical emphasis should be paid to the tenure of Hon. Emeka Stanley as the ASOPADEC Chairman as clearly Ndoki people did not benefit in comparison to what Chief Sam Nwogu is doing for the Asa People as ASOPADEC Chairman. Hon. Ossy Nwamuo was a two time TC Chairman, A two time commisioner, an ASPIMSS boss, Lady Chinedu Brown was a Commissioner for omen Affairs, Mrs Stella Igbokwe took over from her brother Ossy in succesion as the current TC Chairman, and we have Hon.Tony Nwamuo as Commisioner for Environment all from same Obohia.
We expected these faceless miscreants to raise a protest against over power concentration in Obohia giving other communities a chance.
In the letter they suggested that Mrs Stella Igbokwe be allowed to contest after doing one full year as TC chairman with absolutely nothing to show. She is the worst LG Chairman Ukwa East ever produced. We challenge Mrs Stella Igbokwe to point at a single project she achieved in office if not the diversion of palliatives to her house and shop she opened at obehie where she sells the items meant for the suffering good people of Ukwa East.
Under her watch as TC Chairman, all the roads to Ukwa East are impassable, and the party is neglected.
At this time we consider more the individuals popularity, capacity and zoning.
Their letter is targeted at retaining the very dubious crop of people who are only interested in making sure Ukwa East remain underdeveloped. This we will resist with by all legitimate means,even with our blood.
The person of Hon.Chuks Wabara is a young and vibrant minded person,we believe so much in. This is evident in the support he had while in far away United States.
Hon. Chuks Wabara enjoys the support of majority of *youths,party and Ukwa East* presently. Most of them willingly willed their support to him while he was on a trip. What more can qualify as capacity if you have majority of your people on your side?
Signed:
Hon. Heavens Obasi
CC:
1. The Deputy Governor
Rt. Hon. Ude Oko Chukwu,
Government House Umuahia.
2. Rt Hon. Chinedu Orji
The Hon. Speaker,
Abia State House of Assembly, Umuahia.
3. The Wife of the Governor,
Government House, Abia State
4. Chief Asiforo Okere,
The Abia State Chairman, People's Democratic Party, PDP, Finbarrs Road, Umuahia.
5. Secretary to Abia State Government, Government House, Umuahia.
6. Chief Gab. Onyendilefu, Commissioner, Ministry of Local Government and Chieftaincy Affairs, Umuahia.
7. The Secretary, PDP, Abia State.
8. The Woman Leader, PDP, Abia State.
9. Chief Uzoma Abonta,
Federal House of Representatives, Abuja.
10. HRM Eze Ikeagwuchi Ekeke,
Ukwa East
11. His Lordship, Rt. Rev. Samuel Eze, Anglican Bishop, Diocese of Ukwa.
12. Rt. Hon. Emeka Stanley, Obohia, Abia State.
13. The T.C Chairman, Ukwa East
14. The PDP Chairman, Ukwa East