For the past years, the people of Umuosu Nsulu, Isiala Ngwa North LGA, Abia State in particular and the surrounding eight villages that make – up the old Umunna Nsulu always look forward to a high profile end of year festivity ….. E get why?
They are not looking forward to buy rice, beans, tomatoes, groundnut oil and fertilizers for the next season farming, neither would they struggle to pay school fees by january for their gifted Children threatened by financial challenges as a blessed couple from Umuosu Nsulu community Dr. Obioma Orji and his amiable wife, Mrs. Chinyere Benedicta Orji took it upon themselves to put smiles on the faces of people, yearly.
The philanthropic gestures of this couple through their foundation, CROMARIA CARE FOUNDATION has lifted families and friends out of the poverty line and United the community.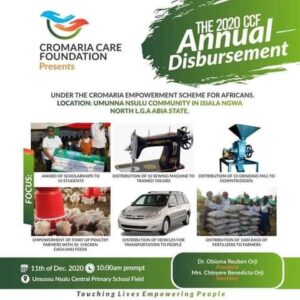 Many families in Umuosu Nsulu in particular no longer look at Christmas and New year seasons with the monster eyes or as a season that would increase their pains and social pressure, they rather see it now as a season that would always usher – in excitment and renewed hope for them, courtesy of CROMARIA CARE FOUNDATION.
This year 2020 empowernment programme promises to be more colourful as the foundation has expanded it's frontier to include other items, amongst which are :-
* Scholarship to 10 outstanding students
* Distribution of 10 sewing machines
* Distribution of 10 grinding mills
* Start – up empowernment for poultry farmers
* Distribution of Sienna vehicles for transport scheme
* Distribution of 1600 bags of fertilizers and other consumables etc
You are invited to this octane rated empowernment programme at Umuosu Nsulu Central School field on Friday, 11th December, 2020 by 10am.
"The reward of doing good is the encouragement to do more"
Let us appreciate this rare couple behind CROMARIA CARE FOUNDATION with our prayers and best wishes.